PCS doubles production capacity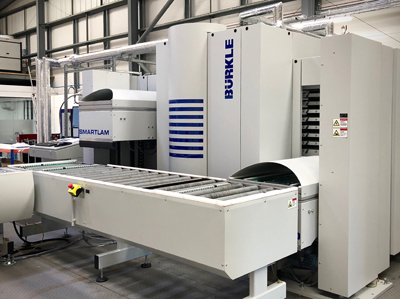 The new unit has a range of high-specification equipment including a Bürkle Smartlam CHK100/200 laminator
Following the completion of PCS' recent £1 million investment in new equipment and the creation of an additional manufacturing facility, overall production capacity has doubled from 80 million to 160 million cards per year. 
The new unit has been kitted out with a range of high specification equipment including; a Bürkle Smartlam CHK100/200 laminator, a HP Indigo 5900 seven-colour digital press, and a fully automatic Col-Tec Sheet Collator, for accurately assembling the various elements that make up a card and a MicroPoise MK2 hot foil stamping machine.
The flexibility offered in terms of sheet size with the Bürkle laminator means the company can use it for both litho and digital work, improving lead times and capacity. PCS reports that the quality and consistency of print, and the flexibility of materials including an eco-degradable alternative to standard PVC that can be used with the Indigo press is 'second to none'.
Existing machinery includes a five-colour KBA Genius 52 UV waterless offset press, a Svecia screen press with UV bridge and a range of Oasys finishing kit.