Route 1 to take UK's first Landa S10P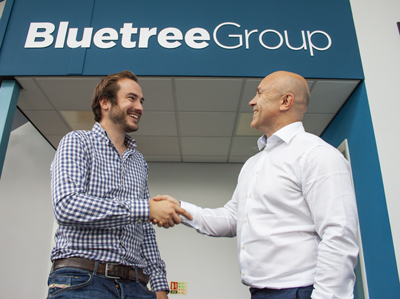 Adam Carnell (L), Route 1 Print and Mark Dempsey, Landa
South Yorkshire trade printer Route 1 Print is continuing its investment spree with an order for the UK's first Landa S10P Nanographic  press.
The spend began in May with the purchase of two Screen TruePress Jet520HD roll-fed inkjet presses, and the company has since made five further purchases in addition to the double-sided B1 Landa model.
'We were incredibly impressed when we first saw the S10P,' said Adam Carnell, managing director. 'The use of Nanographic ink can offer even further sharpness and colour, delivering quality our customers expect.' 
Mr Carnell continued, 'We're all incredibly excited to see how this innovation can improve both efficiency and the service we offer our customers. This is ground-breaking technology and we predict this area of the market is going to explode in the near future. We believe it will enable an accelerated shift from the print-to-warehouse model to a print on demand practice.'
The company is working closely with Landa to integrate its MIS with the press. The aim is to create a bespoke solution that will allow a full web-to-print system. 
The Landa press is expected to arrive at the South Yorkshire facility at the beginning of 2019 and to be incorporated into the factory workflow in the following weeks.