Landa maintains 'end of 2013' timeframe for beta installs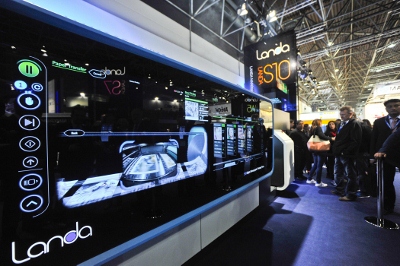 Landa on display at drupa.
Speaking at the EFI Connect conference in Las Vegas, Benny Landa has confirmed that beta testing for the new Landa nanographic printing presses will begin at the end of this year. The first installations will be large format sheetfed machines.
In a 'fireside chat' mode conversation with EFI's Guy Gecht on stage at the event, Mr Landa said: 'We expect to ship our first machines into our beta customers at the end of this year. 2014 will be a year of rising volumes and then full scale production. At drupa we showed seven models, sheetfed and web, from small B3 all the way up to the big B1 machines and wide format machines for packaging. But our first introductions will be our large format sheet machines.'
He went on: 'We will have quite a number of customers as beta sites. At drupa we took about 430 orders; these are LOIs (Letters of Intent) with a requirement for a deposit, serious customers, and from all of those we are selecting our beta sites. Some of them will be in the States, some in Europe.'
He also revealed that new presses installed will come with a service technician to train operators and provide ongoing servicing on that press and other presses that may be installed in the area. The Landa technology represents a 'new category' of printing technology, he said – digital printing for the mainstream print market, where its 'high speed, high quality, low cost' ability will see it eat into offset volumes at longer runs than digital can currently handle economically.