Morgana becomes official UK distributor for Uchida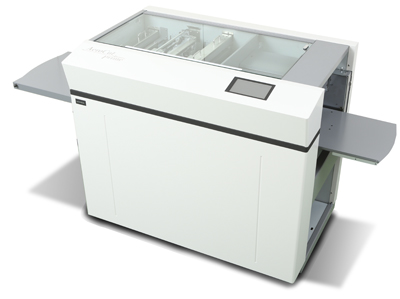 Morgana will carry stock of all key units in the range, such as the AeroCut Prime (pictured)
After sales success with several of Uchida's small format multi-function machines,  Morgana Systems has become the official UK distributor for all Uchida finishing products.
The agreement gives the Milton Keynes-based company access to a wider range of products, further expanding its finishing offering.
To further promote the Uchida brand in the UK, Morgana will carry stock of all key units in the range to supply the existing network of Uchida dealers.
Ray Hillhouse, vice-president offline business, said, 'We are looking forward to expanding the sales of Uchida products across a variety of sectors in the industry. These new products enhance our range of finishing equipment and will be welcomed by our direct sales team across the country. Others will be handled through dealer channels due to the niche applications and specific sectors that they are targeted at.'
Uchida products now available from Morgana include the AeroCut range, encompassing AeroCut Nano, AeroCut One and AeroCut Prime; Uchida's paper counter Countron AT; the AJ-740i jogger unit; the U-Booklet bookletmaking machine; the AeroFold Plus for heavy duty folding; and the four head LA-EX4 paper drill.