Celebrating new talent in the industry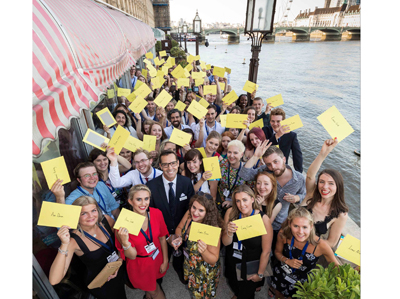 'This year there were 302 applicants of extremely high calibre and 91 winners.' – Lord Black
Winners of the 2018 Print Futures Awards for people aged 18 to 30 years were presented with their Awards at an event at the House of Lords on 26 July. 
Lord Black of Brentwood, deputy chairman of the Telegraph Media Group and president emeritus of The Printing Charity, presented the awards. He said, 'This evening is always a cause for celebration and this year's Print Futures Awards are more successful than ever. It is the largest single awards event for young people and this year there were 302 applicants of extremely high calibre and 91 winners. Applications came from across the UK, covering a whole range of disciplines. 
'As we change and meet the challenge of the future, people of talent and ambition will always flourish and that is why the Print Futures Awards are so important and the winners should take pride in achieving them.' 
Lord Black also paid tribute to Baroness Dean of Thornton-le-Fylde, who died earlier this year. She was an icon of the printing industry, a huge supporter of The Printing Charity, a champion of young people, and hosted the Print Futures Awards event for many years.
Neil Lovell, The Printing Charity's chief executive, said, 'People in the sector are always talking about needing to bring in new talent and showing how diverse it is and these Awards help to support that call for action. They show more young people have clear plans to enter the sector while those already in the sector, including apprentices, see a positive future and are passionate about progressing within it.'