Encore Group expands its team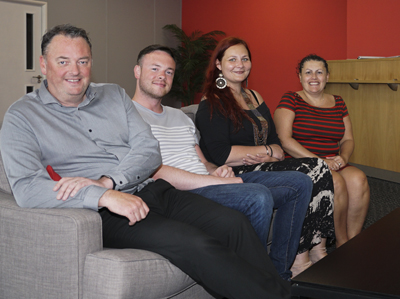 (L-R) Chris Reilly, Daniel Moloney, Gosia Grochowina and Angela Betts
Print and packaging solutions supplier Encore Group has made a series of appointments to accommodate growth.
Heading up the team, Chris Reilly has been appointed as technical design and studio manager. Mr Reilly joins after 22 years with another well-known packaging company. He said, 'It's exciting to join Encore and head up the team. The company has a great reputation and it's an honour to be here and be a part of its future success.'
Taking the role of pre-press and CAD operator is Daniel Moloney, who brings experience in dye-making and printing, creating samples and mock ups for production. He is joined by fellow seasoned packaging expert, Alison Betts, an internal sales account manager.
The fourth addition is Gosia Grochowina who works in client services, coordinating production planning and sourcing materials.
Ken Pearce, external sales manager at Encore Group, said, 'Adding these experienced people to our team will allow us to grow the business. We can increase our service levels to both existing and potential new clients.'
Encore Packaging Solutions and its sister company, Encore Envelopes, are based in the north-east and produce more than three billion items of packaging a year from factories in Peterlee and Washington, including corrugated and solid board boxes, direct mail packaging and e-commerce solutions.