Transfer window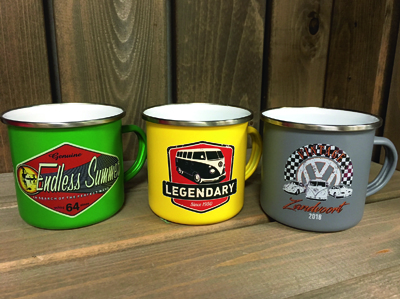 Printing on mugs is quite common, but these enamel examples from themagictouch are a bit different
Heat-fixed transfer printing is a refreshingly lively application of digital print where creativity and sales ideas matter more than spending tens or hundreds of thousands on kit. Simon Eccles explains.
With a low entry point of less than £1000, a dye-sublimation print service can be the classic garage or spare bedroom start-up, especially for designers who want to sell directly, or print employees who fancy breaking away and doing their own thing. Moving up the scale, it can be an interesting add-on for an existing printing company. At the top end, transfer printing scales up to a full industrial process with giant printers, heated calendering rollers and prices to make a finance agent smile.
There's no one name for this class of printing, so we keep it vague by calling it 'heat-fixed transfer.' However even that's not strictly true, as it also takes in small direct-to-garment printing, which doesn't need transfer paper but is still heat-fixed.
Grant Cooke, product manager at Xpres, which specialises in transfer printers and supplies, says that the market is driven by trends. 'For example we're seeing demand for fashion garments, not just t-shirts. There are sweaters, or garments with pockets and back yokes.' The dye sublimation solids blanks are changing too: 'We're introducing different shades for things like aluminium water bottles – pale blues, greens, greys, not just silver and white.' The established products sell well but need some innovation, he says. 'Mugs, coasters and the like are still growing in sales, but there's not much coming out. We have introduced some things like matt finish coaters, and special shapes, but they build on existing products.'
It's coming home
Mr Cooke says that there's been a lot more interest in wide formats in the past year, for printing bolts of cloth that are then cut and sewn into garments and soft furnishings. Conventional wisdom has it that this market went to India decades ago, but Mr Cooke says that it's coming back for short-run fashion and bespoke items. 'It's the fastest growing market for us, we're seeing 44- and 66-inch printers selling to places in northern towns and Leicester. It's economics too – a large format Epson's ink costs a lot less in 1 litre bottles than small Sawgrass cartridges.'
Jim Nicol, managing director of themagictouch, a transfer printers and supplies company in Dunstable, agrees that the market is shifting, mainly as fashions come and go. Personalised phone and tablet cases aren't so popular now that the market is saturated, he's finding, but there's a big demand for other things such as personalised notebook covers. A sort of digital-to-analogue conversion, evidently. 'We have a new notebook cover made of cork, which fits in with the movement to get rid of plastic,' he says. Also big are personalised hip flasks, water bottles and containers, especially the spun aluminium type. If you use dye sublimation you're confined to printing on the paler silver and pastel colours, he points out, which is where his thermal toner transfers come in – OKI and a few other toner printers have a white opaque toner that can be used to print onto dark colours, and can also act as an undercoat to brighten full-colour prints.
Dye sublimation remains popular for all sorts of other applications because of the brightness and permanence of the colours after heat-fixing. If you want desktop cut sheet dye sub, the current choice is currently very limited though: it's basically just Sawgrass, which sells modified Ricohs called the Virtuoso SG400 and SG800, running its own SubliJet-HD CMYK ink. Ricoh has stopped selling own-badged dye-sub printers, though it's pushing hard into the entry level pigment ink direct-to-garment sector.
A few years ago many dealers sold small desktop Epson printers with third-party modifications to run dye sublimation inks. These are now rarely seen and Epson doesn't offer any official cut sheet dye-sub printers.
However Dye Sublimation Supplies sells a modified Epson SC-P600 A3+ sheet-fed printer that can run the Reveal range of inks from Vivid Chemical in the US. Reveal inks are so far unique in that they are claimed to be dye sublimation types which can print on cotton as well as polyester – normally the true dye-sub process requires a high polyester content. A new version of the inks, Reveal SR, will run on the Ricoh/Sawgrass cut sheet models.
Roll reversal
As an alternative to desktop sheet fed dye-sub there are some low cost compact roll-fed models, from Epson, Mimaki, Mutoh and Sawgrass. Roll-fed media is cheaper and more efficient if you want to print several transfers at once. However, for one-off on-demand t-shirts or gift items, a cut-sheet printer is more immediate – with a roll-fed printer you'll want to wait until you've got several designs ready so you can fill up the width of the roll.
Epson UK's smallest roll-fed dye sub printer is the 44 inch SureColor SC-F6200, available as either hdK (dense black ink for textiles) or nK (standard black for solid substrates) models, both at £5754. They're offered as a package with inks, transfer paper rolls and Edge Print software, so beginners have pretty well all they need, apart from a heat press and blanks.
Mimaki has a range of dye-sub printers from entry level up to industrial. The entry level is the 1.3m TS-30-1300, with Mimaki Sb54 inks and the option for a bulk ink feeder, fluorescent inks and six colours. Mutoh's entry level dye-sub printer is larger at 1.6m, but costs more at £9450 (price from Colourgen). The Sawgrass VJ 628 is a modified Mutoh 25-in (630mm) dye-sub printer made to Sawgrass specs. At the time of writing Xpres was offering this at a discount price of £3529 with a starter set of inks and papers or £4258 with a Wasatch RIP.
Toner transfers can be made with any full-colour digital printer from an office MFP up to a full production device. However OKI has established a niche in this sector with its range of keenly priced A3 and A4 LED toner printers. Some of these have an opaque white toner, a rarity in any toner device and particularly valuable when making transfers to go on dark coloured fabrics or solids (think blackboard menus or wooden plaques). The entry level with white is OKI's A4 OKI PRO7411 WT, which themagictouch prices at £1995 with SpaceControl software.
Epson has a purpose-built direct-to-garment printer, with shaped platens and stretch frames for t-shirts and the like, the SureColor FC-2100, which costs £13,194.
Last year Ricoh introduced the Ri 100 (currently sold for less than £3000 by themagictouch), which unusually features an integral heat press. The earlier Ri 3000 (four ink channels) and 6000 (eight channels) have higher throughout and optional sleeve or hat tables, but need a separate heat press.
Both Epson and Ricoh use pigment inks rather than dye-sub, which work with cotton and other natural fibre textiles. Printing directly is faster and easier than using transfers, although a heat press is still needed to bind the inks to the fibres.
Pigment inks are pretty good and getting better, but they don't have quite the same durability or brightness as dye-sub with polyester. On the other hand, there are white pigment inks for use with dark coloured fabrics. There is no white dye-sub ink so you're confined to printing on white and pastel fabrics.
Fill in the blanks
With a pretty limited choice of hardware, linked to dedicated inks, the real choice in the transfer market depends on the blanks that you print on. There are several specialist dealers that can offer complete packages of printers, heat presses and, crucially, blanks.
Prominent among these in the UK are Nova Chrome in Anglesey, which specialises in dye sublimation systems and supplies, and Xpres in Castle Donnington, which covers a wide range of dye sublimation, toner, Merlin Transfers (Sawgrass dye sub printers plus media for dye-sub, dry toner and inkjet transfers). It also offers blanks for non-digital screen printing and offers a screen printing service itself. Themagictouch in Dunstable is best known for its own-label range of thermal transfers for toner printers, but is now selling dye-sub transfer papers, printers and blanks. Others include Dye Sublimation Supplies, as mentioned above.
All these companies offer options for relatively small qualities of transfer papers and blanks, reflecting the short-run nature of the business. However there are discounts for bulk quantities too.
They'll generally offer starter kit bundles with a printer, heat press, inks and media. For example Dye Sublimation Supplies offers its "cotton sublimation" system comprising modified Epson "PrintPerfect P600S" A3 printer, GeoKnight GK20s heat press and a set of Reveal-S inks for £2275.85.
Unlike general commercial printing, which is pretty well confined to flat paper, the transfer market has a huge range of ready-made blanks of all shapes and sizes. For true dye sublimation the blanks need to be either made of polyester plastic, or coated with it. Coating opens up the potential to practically any item that will fit in a heat press. Obviously they need to be fairly flat for a general purpose press, but for common shapes it's possible to made heat presses to match – cylindrical presses for mugs are a case in point. It's also possible to make heated moulds to fit gently curved items with a certain degree of wraparound onto edges – typically for specific mobile phone or tablet models.
The sheer diversity of standard blanks offered by all these companies is quite amazing, and reading through their online catalogues may trigger ideas all by themselves. Best of all, trying them won't break the bank either.