A peek around the paper corner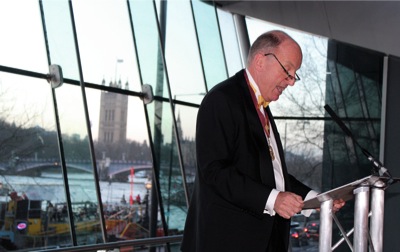 Tim Elliot, president of the NAPM
The National Association of Paper Merchants (NAPM) has held its 10th annual forum. A decade on from its first forum, the theme was: 'What's around the corner – the next five years'. Michal Lodej reports.
A wise man once said that in order to know where you are going, you must first understand where you have come from. For the NAPM, it is no different and so at the start of its 2013 annual forum, attendees were taken back 30 years for a topical recollection of the time that Tim Bowler, director of the NAPM, was taken aside with his wife to have a photograph taken with the then prime minister, Margaret Thatcher.
Upon discovering which trade Mr Bowler was in, Mrs Thatcher proceeded to give him a lecture on the paper industry, before marching off, as was her way.
Thirty years ago there were no laptops, smart phones, tablets or even the internet, and it is estimated that by the end of this year there will be 245 million tablets owned worldwide.
Mr Bowler described the continual decline of the paper industry as a 'drip drip' effect, calling on the examples of cheques (rarely being in use today), and tablets (not the type that Moses came down from the mountain with) being handed out in some churches to read hymns from. 
Guests were shown some sobering statistics: between 2004 and 2008 paper consumption worldwide decreased by 6.3%, yet the next four years saw the situation get much worse, with a reduction in paper consumption reaching 26%. Predictions for the future were by no means cheerful. If the trend continues, by 2017 there could be a reduction of 57% from the level that was being consumed in 2008.
So far this year the trend looks to be  heading that way. January, February andMarch 2013 are down 4.3%, 9% and 13.3% on the same months last year respectively. Mr Bowler said: 'In order for this to change we need to bring people back to print; we need to turn their trust back to print, and we can make it fashionable again.' 
Edward De Voogd, secretary general of European paper merchants association Eugropa, took up from where Mr Bowler left off. He gave an overview of what had happened to the paper merchants over the last decade, focusing on their consolidation. Many of the paper merchants around today are here as a result of small merchants joining together to form larger ones, protecting the business in a fragile economy.
More crucially, Mr De Voogd reiterated how paper consumption was falling in the UK, Germany, France and Spain, with Germany down 18%, the UK 30%, France 48% and Spain 53% since 2000. What is around the corner? Unfortunately, his prediction was more of the same. If trends continued, consumption could be 70,000 tonnes less per year, or a 4% decrease year on year. 
Both Sides
When Martyn Eustace, director of Two Sides and Print Power, began his presentation, there were few positive replies to his opening gambit of 'are we feeling cheerful?'
He went on to remind guests of the things that could be achieved with paper and print, and how they fit in today's world, explaining: 'A new media world exists and we need to understand what is happening. Anywhere that print can add value to a product, it supports our industry.'
He showed a presentation where heat sensitive and photosensitive inks were used, and even an example of how a drinks company had flavoured edible paper to promote its product.
Paper can really be a multi-media tool; augmented reality can add life to magazines; video can be embedded into the page, while Near Field Communication (NFC) can start up a mobile  phone campaign just by being in close proximity to the phone. 
Print Power has been working with the BPIF, Canon and Precision Printing to create a members-only resource which allows access to detailed case studies for various print channels. The point of this is that a company can share its experience and what it has learnt with the rest of the industry.
Mr Eustace spoke about another pro-paper campaign, launched in November last year and titled 'No wonder you love print'. It appeared across Europe in magazines in many different languages, citing the benefits of paper and print. 
Mr Eustace continued: 'Print is still the most trusted medium for adverts, and direct mail is more trusted than social media adverts. Seventy percent of consumers said magazines are the best to support buying decisions, and 20% of households in the UK do not even have access to the internet. 
Even with these statistics, agencies still need convincing that paper can provide a good ROI. Print is an outstanding medium but we have to remember it is expensive. We must also remember it is a complement to digital marketing, not a replacement.' 
Neil Falconer, managing director of consultancy initiative PrintFuture, took up themantle of how the industry can shape its future over the next five years. He started off by saying: 'There is no print industry'. A bold comment qualified by explaining that 'print is a process by which we facilitate the needs of the marketing and communications industry'.
He perhaps surprised many again by next stating that 'now is the best time to make money from print'. A table of figures representing all the different print sectors showed that there was a decline in all of them between 2007 and 2009, except inkjet printing, which between 2009 and 2014 is expected to show growth of 135%. He went on to offer an explanation of where some of the volume of paper is going, one example being digitally printed books on demand.
Technology was also in the forefront of Mr Falconer's presentation. In the next few years we could see the introduction of Landa nanographic printing, and digital printing could reach the speed of offset.
Mr Falconer said: 'If we do not move with technology and communicate with consumers then we will fail. We must respond to the market. Change happens and it catches people out.' 
The analogy he chose for the print industry was one of aeroplanes and destinations: when you go to a travel agent, you do not care about the plane that takes you on holiday, just where it is that you end up. In the same way, printers talk too much about the machines they use, rather than the finished product.
Consumers today use many different channels and the more that printers themselves use these channels, the more effectiveness they can also achieve from their print. If the vast quantity of data being collected is used properly you can communicate in a much more relevant way. Linking print to this data is not easy, but if done it will make money and allow a business to grow.
Mr Falconer concluded: 'You can be successful in this industry, but it won't be from doing what you always have done. Success will come from efficiency, data, creative ideas and importantly sharing this within the industry.' 
Trade balance
Further theories and calculations as to where the volume of paper consumption was going were offered by Jim Todd, sales director of Heidelberg UK. The drop in GDP and competition with new media is taking a lot of the blame for this drop; however, Mr Todd had another explanation for the reduction: the balance between export and import.
Companies that offer web to print services, such as VistaPrint, have grown and become more popular in the last decade. Five of these companies, VistaPrint, Onlineprinters, unitedprinter.com, FlyerAlarm and saxoprint, hold a 4% share in the market in the UK. The orders they collect from the UK are then printed abroad and delivered to the UK. 
Mr Todd went on to explain how paper merchants are working more closely with printers to reduce costs. If a printer is wasting paper from its order then the merchants may help by slightly reducing the amount supplied and then subsequently the price. Another theory on the reduction of paper consumption was that printing machinery is getting more and more efficient and therefore producing less and less waste.
Less paper is therefore being ordered, but printing is becoming leaner and smarter. Adding all this together, he said, the detrimental effect of new media on paper volumes may not be as bad as was thought. 
 Dave Allen, chief executive officer of Paperlinx
David Allen, chief executive officer of PaperlinX, rather proudly observed that a 26% drop in demand in four years would leave other retail sectors reeling, yet the paper industry is still here.
Despite the forecasts of a further decline, driven in part by the poor state of the European economy, it would remain here, he said. 'When demand is falling, costs have to be cut. Logistics must be improved and efficiency increased.'
He also pointed out that paper has great potential in other sectors, which have not yet been fully realised. For example, progress is being made by PaperlinX in the sign and display  industry and the packaging industry.
In conclusion, what's around the corner in the next five years appears to be an industry showing further decline, as measured in paper consumption, yet there is also a sense of optimism in what can be achieved by printers, and how the printed product can be taken to the next level. The statistics are sobering, but the opportunities are greater now thanks, in part, to the new technology which has been seen as a rival to print.