Ripping yarns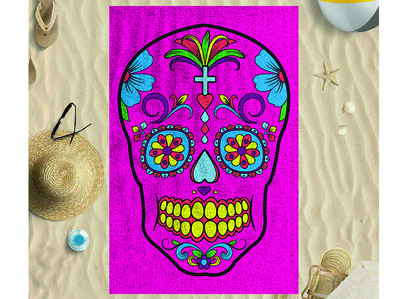 Personalised beach towels are just one of the consumer product lines offered by L&S Prints via its website
Textiles is a fast-growing and surprisingly diverse application for digital print. Michael Walker spoke to three very different users to see how they cut their cloth.
The last few years have seen enormous activity by printer and ink manufacturers in the wide-format sector as machine after machine for textile printing has been launched. Some are aimed at established sectors like soft signage, while others are targeting interior decor, soft furnishing and fashion. And that's without considering the ones that are specifically designed for garment decoration or production. To see how all this is playing out in the real world, here are users who bought different equipment for very different budgets to suit remarkably diverse and inventive applications. 
The soft signage and display graphics provider
Gerrards Cross-based Gpex does a bit of everything in print. With a fleet of Heidelberg litho presses, Canon, Xerox and HP Indigo sheet-fed digital presses and a wide-format side embracing HP (UV and latex), Roland (solvent) and Mutoh (dye sublimation) machines plus suitable finishing equipment, it's positioned to tackle just about anything – and does – but exhibition work, display graphics and signage – including installations – are a fair chunk of the business.
The textile printing part of that chunk is growing, in response to the increasing quality of what can be produced for backlit and other display work, coupled with the portability and ease of installation of the results. 'It's so versatile and easy to transport, a seven by two metre wall graphic can be packed in a Jiffy bag – and then it can be washed and re-used,' says project manager Dan Warner.
There are further advantages, too. Because silicone edge graphics are very easy to install, unlike rigid media panels, retail customers can refresh displays themselves, saving both installation costs and time. Bespoke displays that don't use standard tension frames, or free-standing walls, are built with timber frames and the printed fabrics wrapped around them on site by Gpex installers.
All the HP wide-format printers – an HP Scitex FB700 UV flatbed and Latex 260 and 360 roll-fed models – have been used for textile work but the only dedicated textile printer is a Mutoh VJ2638 supplied via Colourgen. Mr Warner explains that the textile work is allocated by application: 'Exterior projects would be done with dye-sub. For short-term we would use the Latex printer as it's quicker and more cost-effective, using less material and a simpler process. For anything that can be sent rolled up – but not folded – the UV printer is OK.'
When selecting the Mutoh dye-sub printer, Gpex did consider direct-to-textile alternatives but chose the more established transfer technology as it gave more vivid colours and 'much better' text quality. Initially the company bought a 1.6m Mutoh VJ1638. 'We didn't want to over-commit, dye-sub was a whole new ball game,' explains Mr Warner, but it turned out that the width limit meant that a lot of work was still being outsourced, so a trade-in for the 2.6m model was arranged. Fortunately the calendar needed for the thermal transfer part of the dye-sub printing process didn't need to be changed as Warner and his colleagues had secured a good deal on a 3.2 Klieverik heat press when they bought the first Mutoh.
The output from the 2.6m model is fast enough to keep up with demand, even allowing for the two-stage process, but Mr Warner says Gpex has had to actively sell its capabilities. 'A lot of clients don't realise what's possible, it's a case of educating people.'

Gpex produces the textile and solid surface decorations for its clients 
The e-commerce entrepreneur
Lance Dentith has been in print since 1976 but his approach to adopting new technology is bang up to date. He bought his company L&S Prints in 1990 and has run an all-digital operation ever since. Based in an old chapel in Keighley, West Yorkshire, the business has printed textiles for high street names like M&S, Berghaus and Primark, though the latter's demands ran into millions of metres a year and required outsourcing from China. More recently, consumer-facing e-commerce has become a key part of the business and L&S has Etsy, Amazon and eBay outlets, providing a wide range of personalised products from cushions and rugs – including ones for dogs – to Caseskinz, textile wraps for luggage, and Faceskinz, full head masks made of a breathable polyester/lycra mix that can be ordered from a range of customisable and suitably horrific Halloween themed designs, to branded AD2000 Judge Dredd comics art products.
The print technology used in-house has progressed from a 44-inch Mutoh dye-sub machine used in 1990 via Roland RS640 and then the larger XT machines, culminating in the installation in April 2018 of two DGI 1908 1.9m models, each capable of producing 75sqm/hr, which are running alongside the more recent Roland units. Of course, the printers are only part of what's needed, as Mr Dentith explains: 'In 2017 we spent a quarter of a million on machines, building a cushion-filling machine and buying a laser cutter to replace hand cutting for sewing and manufacturing.' He admits that an experiment with a direct-to-garment T-shirt printer was 'an expensive mistake' but says that with manufacturing and sewing on-site, L&S could make T-shirts if they wanted to.
The range of products is vast, from hospital furnishing such as bed surrounds for privacy to fleece throws to doormats to car headrest covers to cotton-backed towelling for beach, sports, tea towels and various branded sports uses. Customers can upload their own designs and images or use and edit those provided by L&S, via the new website at britishmade.gifts.
Since order size was already growing, the extra productivity of the DGI printers, recommended by and bought from long-time L&S supplier Sabur, will be invaluable, producing in one hour what would have taken half a day on the Roland units, though Mr Dentith says these are still fine and  are still in use. The dye sub papers and inks are also bought from Sabur, whose support and service Mr Dentith describes as 'first class'.
Mr Dentith is upbeat about the future opportunities, too. 'Digital manufacturing has got a lot more mileage in it yet. We've not marketed yet, just sold via eBay and Amazon. We have 20 staff and are aiming to grow to 28.'

Another popular line from L&S Prints is Caseskinz
The industrial scale fabric printer
Being flooded isn't usually beneficial to business development and would sink many companies. But when the river Lune burst its banks in December 2015 and filled Standfast & Barracks' Lancaster factory with a metre depth of water, in some ways it did them a favour, as the insurance payout enabled the company to upgrade to the latest Durst wide-format equipment for industrial volume fabric printing. 
'The insurance bill came to £19 million including loss of business,' says managing director Stephen Thomas. 'It took six months to get up and running again but it allowed damaged [digital] machines to be written off.'
The lost digital printers were Durst Kappa models installed in 2012/13. They had contributed to the company's growth from a turnover of £1 million in 2012 to £6 million in 2017, with aims for a further 50% growth in 2018. The 100m/hr Kappas, which had been bought to move from sampling to short-run production, were replaced with two Durst Alpha 190 models capable of between 200 and 300m/hr at the required quality and a third is being added to support the ambitious growth plans. 
Part of the luxury furnishing group Walter Greenbank, Standfast & Barracks has a history stretching back more than 90 years and supplies high quality printed fabrics for design-led home furnishing and apparel brands such as Sanderson and Harlequin. The growing importance of digital print allows the company to meet its customers' demands for shorter runs, greater variety and faster turnaround. 'Conventional fabric print will use up to 20 colours, digital lets us have 60,' says Mr Thomas.
Given that producing 20 screens could cost between £6000 and £8000, and that a typical collection will feature six to eight designs, experimentation was expensive but printing digitally with the Dursts' eight colour pigment inks means that one-off samples can be produced easily and the main cost is in creating the artwork. With 25 people in its design department, the firm not only creates new designs and collections but also exploits and develops its archive, reissuing digitally printed versions of designs that predate the digital era, particularly popular with US customers. 
Mr Thomas says that reliability is critical – and reports that the Alphas are better than the Kappas in this respect – but more speed isn't necessarily the goal, as quality and prices are also important variables. Producing samples for customers is an area for development: currently customers supply paper prints of designs which Standfast & Barracks have to try to match on fabric but work is in progress to enable them to "dial in" and run the digital print machines directly to produce their samples themselves. Ink development for wider colour gamut and improved lightfastness and handling resistance is also an area of focus. 'There's a big growth opportunity,' says Mr Thomas.