Selling the value of digital print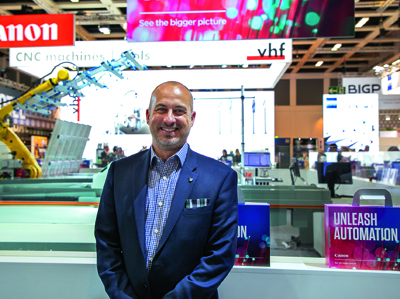 Canon Europe's Mark Lawn – offering business training is essential to the
company's credibility
When you buy a new digital press, you expect operator training but should your press manufacturer be educating you on how to sell the special characteristics of digital print to your customers? Andy Knaggs set out to learn more.
Jo Lloyd has been selling print for more than 25 years now. The training and development consultant is a familiar face at industry events under her own banner of Cotmandene, as well as working closely with Canon in helping to deliver its Essential Business Builder training programme.
She has seen and experienced first-hand the pain and exhilaration of revolution, as print's place in the world was shaken to its core by the rise of digital media, and then its value reaffirmed as a powerful medium of communication, especially when competently aligned with those very same digital media. Ms Lloyd has moved with the times, but, she fears, many print sales people have not.
'In the last decade, the print sale has got a lot more technical. Old-fashioned sales people are struggling to survive these days. You've got to be able to speak the client's language and also know your technical stuff. Sales people need more training, not less, and it's the forward-thinking companies that take advantage of what's offered.
'A lot of the skills for basic sales never change: ask the right questions, really listen to the answers, keep digging until you've got a clear picture of what they are trying to achieve. But print sales people need to add an ability to understand the capabilities of modern technology, and they need creativity and imagination to come up with ideas, formats and campaigns to help customers achieve what they want to achieve.'
It also requires a more consultative approach to selling, according to Kevin O'Donnell, Xerox's head of marketing for Graphic Communications and Production Systems in the UK. 'It's deeper and richer and it takes a lot more time. You potentially find yourself talking to different people within the organisation. One of the emphases we introduce is finding the motivation of different people in different businesses and different markets. A person in retail might have different criteria for success to someone in banking, but they are both interested in buying print-centric communications.'
There is a distinction to be made between selling what digital printing can do, and selling the capabilities of a digital printing press however, says Matthew Parker of Profitable Print Relationships, who works with Antalis on delivering its Academy training programme. The technical capabilities of the kit are largely irrelevant to print buyers, he believes. 'People want to know what it can do for their business. That gives you a much better chance of making the sale,' said Mr Parker. 'Don't show people that you've got a marvellous digital press; show them that you can make a difference to their business.'
Buyers and beyond
Wherever you place the emphasis of your message to print buyers, what is obvious is that digital print is a more dynamic form of communication than mass-produced, one dimensional litho print. It can be targeted to the individual in many different and creative ways, which makes it an ideal complement to other forms of digital and mobile media. This ensures a vibrant future for digital print, while demanding some extra thought as to how its advantages can best be explained to print buyers.
Central to that thought is the fact that the print buyer itself, as a breed, has undergone substantial change over the last decade or so. The technically-fluent print specialists are mostly gone – as Matthew Parker says: 'I was a traditional print buyer and there are very few left like me.'
He urges thinking of the customer as a user, more than a print buyer. They are part of a network of individuals within an organisation that you need to influence, and they might be in marketing, procurement or any number of other departments. That makes it hard to 'speak their language', since there might be several different languages within any given organisation. Nevertheless, they are much less likely to be interested in kit, and very much more interested in value, business benefit and return on investment. 
It might not purely be a price-driven conversation though, says Kevin O'Donnell. 'The market has certainly moved on from the absolute print buyer that's only interested in the cheapest thing. Their organisations need print that functions. If they get the cheapest, what suffers is the product you get back, and that can damage the business. I think print buyers are getting a bit more savvy but there's a gap there and work to be done. It remains a challenge but I'm certainly detecting that they are looking at value, longevity of delivery and sustainability, as well as price.'
'We are increasingly finding that even the very basic digital print capabilities are considered new to many print buyers,' said Tim Carter, director, Commercial Print at Ricoh. 'We are committed to demonstrating to customers and industry experts the capabilities of digital print. However, education is an industry-wide challenge and cannot solely be achieved by manufacturers and print service providers; instead it requires a collective acknowledgement.'
Giles Bristow, digital support manager at paper supplier Antalis, agrees that there is a very strong need to educate print buyers, and reveals that they are turning up at the Antalis Academy in search of this education. 'The more information we can get out to the market about the benefits of digital print, the better,' he says. 'We have a lot of print buyers come in and an area of particular interest for them is colour management, the need to get consistent colour across multiple devices and substrates when producing work for a major brand campaign.' 

Giles Bristow of Antalis: there's a strong need to educate print buyers
Provision and priority
But what provision is there in the industry for training  printers to sell digital print and its specific characteristics, and what level of interest is there amongst the UK's printers to take advantage of it?
To this latter question, there might be conflicting signs: a recent BPIF Printing Outlook report stated that one of the top three business concerns for British printers was access to skilled labour (alongside competitive pricing and paper & board prices). This struck a chord with Xerox's Kevin O'Donnell: 'It suggests that printers are looking to tap into a ready pool of skilled people. That knowledge and skill has to come from somewhere, though. I really do think that the companies who invest a lot in people development are in the minority, and that companies should be investing as much in that as in production capability.'
He adds that interest in all kinds of training ebbs and flows. Giles Bristow says that Antalis runs various business coaching workshops as part of its Academy, helping customers to sell digital print through things such as better negotiating skills. 'We saw that it was something the industry needed. We are constantly talking to customers and it has become abundantly clear that there is a need for business coaching, alongside the more print-based coaching we offer,' he said.
Across the industry, there is a mixed approach to offering sales training, and indeed training in the variety of other aspects of running a print business. Some manufacturers offer sales and business development as part of formal training programmes; with others – Heidelberg, for instance – it is more of an ad-hoc arrangement, according to individual need.
Heidelberg's Chris Matthews points out that the digital print market, like CTP several years ago, is already predominantly a replacement market; most printers have had a digital press before, few are entering it for the first time. 'Our typical commercial print customers are pretty cute in knowing what they can do, based on product capability,' he explains. A real consultative approach comes from Heidelberg's account managers, who often bring a couple of decades of experience to bear to advise their print customers on approaches to the market. This consultative assistance is delivered very much on a case-by-case basis, he added.
At Roland DG, which runs a training academy and a creative centre, there is a focus on applications and finishing, as well as machine operation. The Roland Creative Centre is 'about inspiring ideas', said head of sales Rob Goleniowski, adding: 'There is such a breadth of applications because of the range of materials we can print on to, so there are some really profitable applications and markets that people could focus on.' Informal, one-to-one guidance is also provided to help with the approach to the market.

Jo Lloyd: 'old-fashioned print sales people are struggling to survive'
Konica Minolta delivers a raft of market intelligence resources through its Prokom user association and Digital 1234 platform, providing white papers and access to specialists across a range of market sectors. Paul Franklin, head of UK Production Print, Graphic Arts Business Unit at Konica Minolta Business Solutions (UK) explained: 'Most of the engagement is around an application – leaflets, or plastic cards for example. Where customers position it in the market is their choice, but we help them with engagement with the market, we can tell them what the market share is and help them with things like media profiles and producing samples.
'What customers enjoy best is seeing us as their support, providing engagement that will help them grow into new markets; they see us as a business partner, not a supplier.' 
He also extols the virtues of Konica Minolta's growing KM1 customer network, saying: 'We have more than 40 KM1 customers now, and with the range of materials the KM1 can print on, people can open up new markets. It's the customer conversations that ignite that.'
Supporting customers was exactly the basis for the establishment of Canon's Essential Business Builder (EBB) programme back in the early 2000s. So clearly is it entrenched in Canon's approach, that Mark Lawn, director of Canon Europe's Graphic & Communication Group, says 'it is impossible to imagine Canon being credible' without EBB.
'It is designed to be marketing and sales support for printers,' he continued. 'We are interested to understand the business ambitions and motivations. If we were only interested in selling a digital press, that's not going to help a company succeed in their ambitions. If a customer has an interest in developing a new service around an application, they have to sell that to clients. Our response is to be shoulder to shoulder with them as they go through those steps. It's really ingrained in what we do. The key things to highlight with digital print are the added value aspect, and how printers can help their customers stand out.'
Tim Carter of Ricoh agrees with this, pointing out that a key message that training can be distilled down to is 'positioning on how to explain the value add of digital, especially on jobs that have 500 to 1000 pieces per run; this is particularly the case as there is an increased margin from using spot UV or neon to expand the colour gamut or add gloss'.
While training to sell digital print and variable data is part of the Xerox curriculum, Kevin O'Donnell says that often this needs to be augmented with more general sales management courses. For example, a course around developing a sales management plan will shed light on how you target, measure and reward sales people. Training in selling cross media will only be effective if the business has been shaped to handle such work, and if there is a good understanding of the market itself. All of this helps to build a much more focused course when training the sales people themselves, he adds.

The Antalis Academy sessions cover a wide range of topics, from colour management to negotiation
'If sales people are managed and targeted and motivated correctly, then you can start to introduce a methodology going forward, and if that also aligns to a marketing plan, then you are all facing in the same direction,' he says.
But all of the training in the world will make no difference if those who are provided with it simply revert to old ways as soon as they return to their businesses. It happens all too frequently, according to Matthew Parker. 
'I can go in and train a lot of people and inspire them about how they need to change their sales, but they still need to go away, make those changes, and make a difference to their business. There has to be implementation as well. One way is for management and staff to put together an action plan to make sure it happens; another is to consider mentoring people, so they are made accountable. I think that's as important as the training itself.'
Printer's view – Bradley Vaughan,  Kingsley Print & Design, Egham
Kingsley Print & Design managing director Bradley Vaughan started attending courses on Canon's Essential Business Builder programme before he had even invested in a digital press, and still looks to take in more training when the opportunity arises.
'Getting time out of the office to do these courses that they offer for free is fantastic. You get to talk to people and learn a lot,' he said. He has been through both sales and marketing training – delivered by Jo Lloyd and Jacky Hobson of Up Marketing – and emphasises that the training given has been broad, rather than Canon-centric.
'The major thing I took from it was not to be scared of digital: it opens up doors and enables you to gain business. You can see the positives and negatives of selling digital versus litho, and you just remember those things and use them every day. There are also specific things, like being able to tailor and target mailshots, and GDPR – Jo Lloyd was talking about how to store and transfer data files on the internet six years ago.'