Kodak user conference hails data-driven 'smart manufacturing'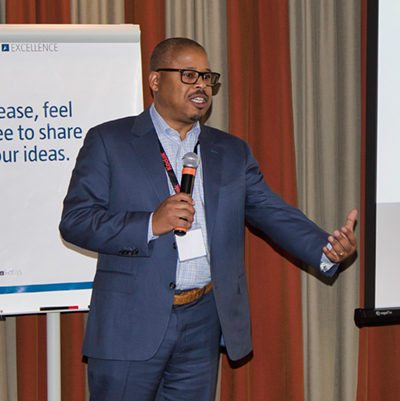 Kodak's Allan Brown addresses the GUA event.
The rise of 'smart manufacturing', opportunities for printers outside of traditional areas, and the importance of workflow were among the major themes of the latest European GUA (Graphic Users Association of Kodak Solutions) Conference, which took place in Lisbon in October.
Held annually since 2005, the event featured keynote speakers, roundtable debates, access to solution experts and networking opportunities for delegates. It was a chance to get abreast of current industry trends and the latest Kodak technologies.
Keynote speaker Dr Sean Smyth of Smithers Pira identified a number of avenues of opportunity: packaging for commercial printers; printed textiles, ceramics and tiles, decorative printing, functional and 3D printing.
'These are all things that printing companies with an understanding of project management, how to generate a master and reproduce it, are very good at,' he said. Dr Smyth added that digital workflow was central to success: 'The growth in web to print, web to wall, web to whatever, is determined and only made possible by workflow.'
Spreading a similarly positive vibe about print was Kodak's general manager for Unified Workflow Solutions and vice president of Software Solutions, Allan Brown. He emphasised that in Kodak's view 'print is actually booming – we see growth instead of contraction'.
Mr Brown went on to discuss the importance of collecting and analysing data from the plethora of technologies within a typical print room. Harnessing this data heralds smarter operation, he said: 'You need data analytics and artificial intelligence to dig into that data and to interpret it in order to give printers helpful insights and identify sources of savings. We bring things together: smart devices, big data, AI, analytics. This means we are entering the era of smart manufacturing. That is the evolution that we see going on in the industry today.'
This was an assessment that chimed with the conclusion made by Carlo Sans, Kodak's worldwide director of Product Management and Marketing, Software and Solutions Division, who said that 'smart manufacturing is rapidly turning into a reality'.