Bluetree adds 45% to footprint with purchase of neighbouring unit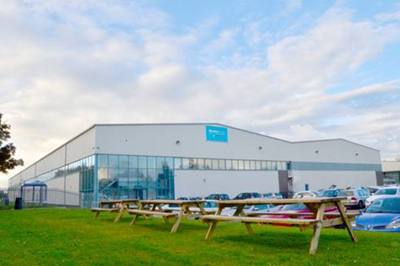 Bluetree's existing site in Rotherham.
What's next for rapidly expanding Bluetree Group? More expansion of course.
The South Yorkshire-based print manufacturer – which is set to be the UK's first Landa nanographic printing site – has announced that it is taking over a neighbouring unit at its Manvers, Rotherham site, which will increase its total footprint from 100,000 square feet to 145,000 square feet.
Bluetree includes instantprint.co.uk and trade printer Route 1 Print. It has already invested £20 million in its print production facility over the last five years, growing its workforce by 200 in that same time. It dispatches 2,500 jobs every day.
Adam Carnell, managing director of Bluetree, said: 'We're in an exciting position with the business continuing to grow very rapidly year on year as more consumers choose to purchase their printed products online. When we first moved into the building in 2015 it seemed vast but with the investment in new equipment the space has been filling up quickly. The additional production space will allow the business to fulfil its growing demand and also add new products to the current line-up.'
The company said that renovation of the new facility will begin in spring 2019, with completion due in early 2020.