Third Ricoh Pro VC60000 for MBA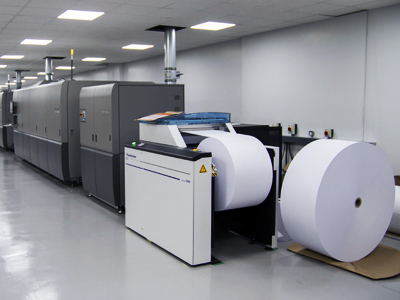 Ricoh Pro VC60000 with Hunkeler pre- and post production lines at MBA
MBA Group will produce the largest capacity of VC60000 generated output in the world when it takes delivery of its third press this spring.
In early December 2016 the marketing and communications company took delivery of its 2nd Ricoh Pro VC60000 continuous inkjet digital press, which was installed with a variety of new and upgraded Hunkeler pre- and post production lines, following a reconfiguration and refurbishment of MBA's London-based facility. The third Ricoh Pro VC60000 is due for delivery in March 2017.
Investment in the new machinery is intended to improve productivity levels, print quality and give the company greater flexibility and versatility. MBA is the only provider in the UK to have installed the optional undercoat units on all three presses, to allow for printing on offset coated gloss and silk stocks. 
'The new VC60000s are already opening doors to new business opportunities across multiple use cases,' commented Kevin Stewart, sales director.
'I am personally very impressed with the quality and capability of the new Ricoh VC60000s,' agreed Linda Bosch, managing director, 'quite simply because the results so far and its future potential is so pleasing to our clients.'
The presses support a broad range of substrates and MBA is ready to use a range of inkjet substrates for go-live and the migration of more than five clients between late February to early April 2017.