Latcham Direct chooses Imprint MIS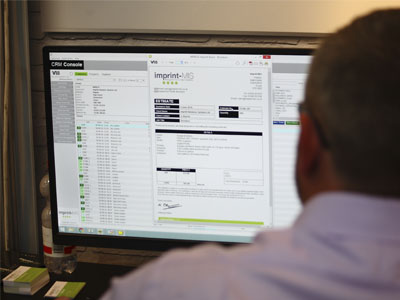 Bristol-based Latcham Direct has invested in the full Imprint MIS Direct Mail Business Control System (BCS) to improve the efficiency of its direct mail business.
Over the past few years, digital print, direct mail production, print management, document management and fulfilment operation, Latcham Direct, has invested over £1m in new digital printing hardware, servers, and software. More recently the company, which works primarily for NHS, membership organisations, housing associations, financial services, government and local authorities, trade unions, charities and commercial organisations – helping to reduce postage costs in lieu of digital document archiving – has invested over £40,000 in advance intelligent enclosing technology.
'In today's fiercely competitive DM market it is so important to accurately monitor real job costs in order to evaluate a jobs profitability,' said Wayne Beckett, director at Imprint-MIS. 'The Imprint BCS does exactly that, by giving users fast and accurate estimating and full cost analysis and reporting across the whole business for every job.'
The Latcham Direct system includes: The DM Estimating module which can handle multiple items/components of differing run lengths, including data handling and processing with the ability to split out detailed pricing in a quotation. The system also handles laser and digital print click rates for simplex and duplex personalisation.
'Our vision is to adopt a client focused approach to helping our clients simplify complex customer communication problems using digital printing, cross media and secure document management solutions,' commented Mike Hughes, MD at Latcham Direct. 'By integrating this with the new Imprint BCS we will have complete visibility of all jobs as they run through the business.'