Virtuoso Print Manager breaks new ground for Sawgrass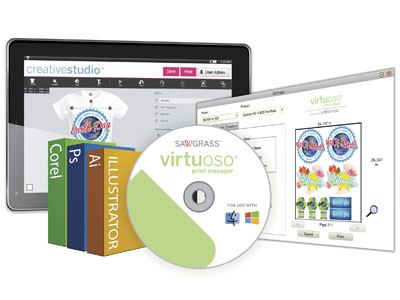 Sawgrass' first universal print management software for all Virtuoso HD product decorating systems delivers RIP-like applications using both Windows and Mac operating systems.
'Virtuoso Print Manager is the biggest game changer we've released since CreativeStudio,' said Darcy Mauro, president of Sawgrass. 'It enables users of all three of the printers used in our Virtuoso HD Product Decorating Systems to access one powerful, yet easy-to-use program for the best-quality prints for their printers and software.'
The software works with a variety of Sawgrass printers, ink sets and graphic design programs, including: Windows or Mac OS (for SG400/SG800); CorelDraw, Adobe Photoshop, Adobe Illustrator and CreativeStudio; Virtuoso SG400, SG800, VJ 628 printers; SubliJet-HD CMYK, Pro Photo and Pro Photo XF inks, as well as ChromaBlast-HD and FabricMaker-HD.
Virtuoso Print Manager uses job and image ganging to save media, as well as Web-to-print and hot folder workflows. Additional features include: built-in ICC profiles for a wide variety of substrates and image types; direct import of .JPG, .PNG and CreativeStudio's .SG or SGZ files; and multilingual user interface.
The new system replaces CreativeStudio Print and Color Manager for CreativeStudio users, and is available for free download to Virtuoso customers through the Sawgrass website. It also enables VJ 628 users to print from CreativeStudio for the first time.