Ricoh launches production workhorse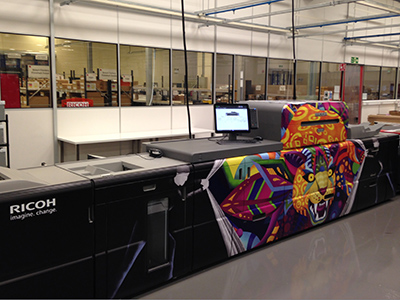 That's a wrap: the Pro C9200 on display at Ricoh's Customer Experience Centre, Telford
Complementing the Pro C7200 series launched in March, Ricoh has added the Pro C9200, a 135ppm heavy production sheet-fed toner press that has a number of productivity and quality enhancements over its predecessor.
Previewed to customers and press at the Art of the New event held at Ricoh's Telford site in late April, the new series supports the same long-sheet options as the Pro C7200 series but with a longer auto-duplexing option (1030mm duplex versus 700mm, both do 1260mm simplex).
Enhanced image stability and consistency via auto calibration for both greyscale and colour reproduction is achieved by measurement of each sheet and comparison against RIPped data, though the press does not support the fifth colour options of the Pro C7200X; visual defects caused by mechanical or chemical issues in the print process will cause the unit to stop and alert the operator.
Front-to-back registration accuracy is also improved through continuous measurement and via a mechanical solution to irregularly cut papers. Called "shift and swing", this involves a pivoting axis roller in the paper feed path that can compensate for non-square cut paper via measurement of side-lay rather than leading edge positioning.
The Pro C9200 can handle media up to 450gsm / 600micron, making it suitable for lightweight carton prototyping or short-run production as well as heavy weight banners. Other productivity features include air separation in the feed stacker to avoid jams and mis-feeds and a redesigned Android-based user interface with a larger display. This includes the media management tool for pre-loading substrate settings.
There are two EFI Fiery digital front-end options offering different levels of performance, plus Ricoh's TotalFlow Print Server, which supports Ricoh's TotalFlow and Batch Builder workflow software and enables close integration with offset-oriented prepress workflows such as Kodak Prinergy and Agfa Apogee.
Eef de Ridder, director, Commercial Printing of the Commercial & Industrial Printing Group at Ricoh Europe commented: 'There is no other digital colour sheet fed press that matches the value performance package of the Ricoh Pro C9200. All these advances have been developed to flexibly support higher quality, on-demand production of a wider range of services, printing on a broad choice of substrate types that includes synthetics, carbonless paper, coated and uncoated stock and envelopes. They help PSPs maximise production uptime and expand capabilities to more efficiently, cost effectively and profitably answer broadening market demands.'
The Ricoh Pro C9200 will be available from June.