Dynamic installs UK's first Versafire EV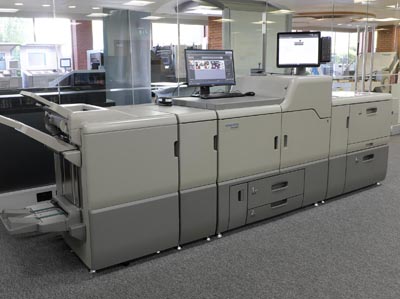 The Versafire EV with the Heidelberg Digital Front End
Dynamic Print Media will be the first UK company to install a Versafire EV with the Heidelberg Digital Front End, enabling them to use it within a Prinect workflow for rapid response printing.
'The creative studio will greatly benefit from the new functionality and versatility the EV has to offer and so will our clients,' said Nigel Stevens, director.
The investment marks a move away from Xerox for the Slough-based company. Using the uncoated profiles will enable better matching for litho sheets rather than producing a typically shiny result from other toner based technologies.
Creative director Shelley Stevens commented, 'We love the 6pp A4 capability, as the new EV enables auto duplex printing on sheet lengths up to 700mm, the ability to produce short runs of folders and to run white and four colour print in one pass on a variety of stocks, textures and colours. It is the flexibility with colours, the registration accuracy and ability to use the transparency application on lead sheets that is very exciting. We believe we can bring fluorescents into our designs and achieve an extra colour space or run halftone neons on top of metallics. We are looking forward to experimenting with it, trying different textured papers and colour scenarios and pushing its capabilities to the limit.'