Antalis appoints digital print expert team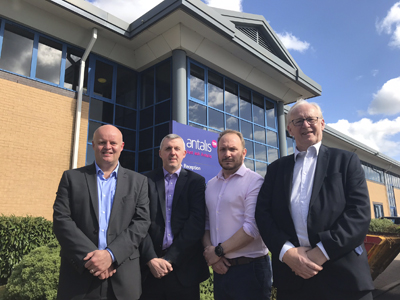 (L-R) Brad Hyde, Jeff Gill, Jim Whittington and Neil Lewis – Antalis digital business partners
Antalis has bolstered its digital team in order to provide customers with a "holistic" training, support and consultancy service to help keep abreast of technical innovations and business opportunties.
Headed up by digital expert Jim Whittington, Antalis' digital print experts provide dedicated regional focuses for consultancy on the latest innovations and advances, along with advice on potential business opportunities.
Recently joining the team, Brad Hyde is digital business partner for the South West. He has over 10 years' of experience in print, most recently at Ricoh where he oversaw machine demonstrations.
Occupying the same role but for the South East region is Neil Lewis, having been with the business for four years, prior to which he worked at Xerox. Taking the Northern territory is Jeff Gill, who brings almost 20 years' experience from various roles at Antalis. 
Talking of the new team, Mr Whittington commented, 'We are aware that our customers are under immense pressure to continue to push boundaries in innovation and the creative concepts. As such, we have bolstered our digital team to provide customers with concerted expert consultancy on the latest digital market entrants and the opportunity they present.'
The support includes everything from guiding through investments in new equipment, identifying the different applications existing machinery may be capable of producing and looking at new or complementary solutions to sit alongside existing kit.
'While consultancy isn't anything new, as we already have a strong presence in this market, the difference is the ability to provide national access and expertise at a regional level – so we can reach out to more customers than ever before,' Mr Whittington concluded.