Flatbed cutting plotter signs up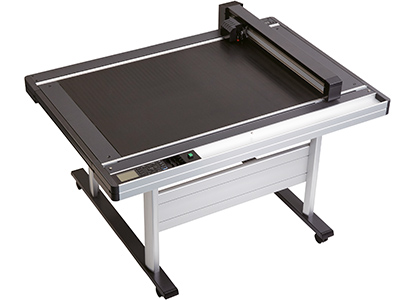 The FXC4000 features registration mark sensing for improved accuracy
Graphtec has extended its range of flatbed cutting plotters with the introduction of the FCX4000, a lighter and smaller version of the existing FCX2000.
The new unit replaces the existing FC4500 machine and incorporates many of the features found on the previously launched FCX2000. Aimed primarily at garment and accessories decoration, the FCX4000 is also suitable for processing materials used for traffic signage, sandblasting, packaging, point-of-purchase display and printed label/sticker applications.
Available in a choice of two sizes, the FCX4000 offers cutting areas up to 976 x 660mm, a cutting force of 600g and a maximum cutting speed of 750mm/sec. Both models are supplied with a range of accessories as standard, including a steel cutting blade, water-based fibre-tipped pen and a creasing/scoring tool that will enable jobs to be cut and creased from the reverse of the sheet to avoid damage to the printed surface. Graphtec's Pro Studio and Cutting Master 4 design and production software are also included as part of the package.
The FCX4000 will handle a wide range of media in various thicknesses. This includes self-adhesive fluorescent/reflective vinyl up to 0.2mm, heavy paper/board up to 0.5mm, compressed foamed sheet up to 0.8mm, cardboard up to 1.5mm, high-density reflective film and sandblast resist rubber up to 1mm.