Dye-subs make their mark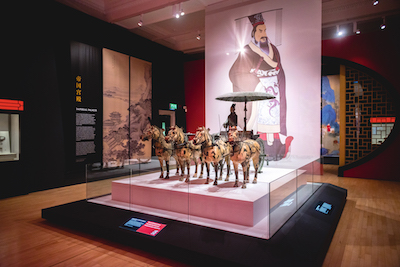 Leach works for museums and heritage clients, producing displays for exhibits
Digital print on textiles has arrived in a big way in signage and display production, bringing benefits in production speed and installation logistics. Michael Walker spoke to three companies in this sector to see how they cut their cloth to suit.
When printers talk about a big job, they usually mean a very long run, or perhaps a complex multi-part order. In the sign and display sector, though, it can mean just what it sounds like – one very large item to be produced. In the case of Huddersfield-based display specialist Leach, one big job was an 11 x 4m hanging graphic for Sports Direct.
While that's perhaps an exception, the 127-year old company, which had its roots in Victoria era photographic services, does get through a lot of large format work. For the majority of the company's existence that meant silver halide photographic processes. A user of digital print technology since the 1990s, a crucial turning point for Leach came with the global financial crisis of 2008. Marketing manager Michael Trevehan explains, 'It was a question of how to survive. We realised that most of our print was going onto something, so if we could manufacture that, it would be an extra string to our bow.'
Charge of the light brigade
This led to the development and manufacture of the company's own lightboxes. Called Lightwall, these combine custom-made aluminium frames with carefully arranged LED backlights for bright and even illumination and high quality printed textile graphics for visual impact. Video screens can be incorporated if desired but LED lighting control allows movement effects to be achieved without one. Leach now sells these to retail customers such as Arcadia Group, whose brands include Top Shop/Top Man and Burton. Other big-name retail clients include Gap, Regatta, Mamas & Papas, and AllSaints. 
'It's an initial investment for retailers but then they can change the graphics every day, week or month – we can turn around a textile graphic in 24 hours,' says Mr Trevethan.
To meet the production demands for quantity, quality and timeliness of delivery Leach has a fleet of wide-format printers. This ranges from an HP Latex 560 1.6m machine that's used for external work, for which head of operations Russell Wilson says it's better suited than UV, which is produced for other applications by a 5m Durst 512R installed in early 2016. There's also a 3.2m Durst Rho 312, plus a P10 hybrid, which although slower at 40sqm/hr yields very good quality according to Mr Wilson. For materials that require a true flatbed, Leach has a swissQprint Nyala2 3 x 2m model whose sectional vacuum bed helps flatten out media such as Foamex for accurate imaging, as well as working on heavier materials such as wood, glass or metal; this was bought around three years ago to support heritage work for the likes of the National Trust.
The most recent addition to the fleet was another Durst machine, and the first textile unit for Leach, a Rhotex 325 dye sublimation printer added in September this year, bringing the production capacity up to 500sqm/hr. It's able to print to both transfer paper and direct to fabric but Mr Wilson says, 'We do more transfer than direct  – the paper is 45 pence per square metre so any waste is less expensive than on fabric. It's where the market is going: the ink is water-based, the print is recyclable and less ink is used. 
There are 10 times as many materials as for UV, though, so we're finding what works best,' he adds, noting also that temperature and humidity control may be necessary as the paper-based dye-sub transfer substrate is susceptible to moisture.
Finishing requirements are met by Fotoba cutters and a 3m Kongsberg cutting table; laser cutting and engraving are to be added shortly. Print production is driven by a Caldera RIP and Esko Automation Engine workflow. Colour management is implemented to give the same results from any of the printers.
As well as the Lightwall lightboxes, production staff at Leach have been experimenting with acoustic materials that absorb ambient sound to create quiet semi-enclosed spaces for meeting "pods" or booths, as well as acting as treatments for otherwise acoustically reflective surfaces such as glass walls or ceilings.
Motoring on
Trade printer Scott Conway of Essex-based Venture Banners describes his business as 'mopping up the little jobs that no one else wants'. With around 6000 customers ranging from small printers to copy shops to graphic designers, the collective throughput is enough to offer all of them some economies of scale. Mr Conway came into print from the motor trade where he was tasked with buying large format print and in 2009 started Venture Banners as a print farming operation, packaging up multiple small orders like his and placing the work.
Becoming frustrated with variable levels of service from printers who won large World Cup contracts or had changes of management and were no longer interested in piecemeal work, even though it had considerable net value, the next move was bring production in-house. 'We were forced by this to buy a printer, so we aim to offer a consistent service for the trade only. We won't take retail work on the side so our service levels don't drop,' explains Mr Conway.
This decision led to a move to a bigger site in Witham in 2012 in order to accommodate two 3m EFI Vutek GS3250 UV machines and a 2.5m Zünd cutting table. The current site in Braintree was bought needing considerable work in late 2016, including the construction of a mezzanine floor to house an expanded print fleet that now has a third UV Vutek, a second and larger Zünd cutting table and an Mtex 5032 HS 3.2m dye sublimation printer with inline heat fixation, which was bought to produce flags in-house, a move that Mr Conway says has allowed the price to be halved. 
The latest addition is an EFI FabriVu machine that arrived in September 2018 via reseller CMYUK. At around 200sqm/hr it's faster than the older GS-series UV machines but requires a separate Klieverik calender press for fixing, something that caused some hiccups with installation when an extractor fan was wired the wrong way and blew smoke and fumes from the fixing process back into the factory. The FabriVu is used for display polyester, stretch and backlit graphics, while the Mtex continues to be used for flags; both are used in direct-to-fabric mode as this is felt to yield better quality results. 'The FabriVu is an astonishing piece of kit but we've seen registration issues over long nests with paper,' reports Mr Conway.
Projects are finished using heat-based hemmers or for bigger pieces that require joining or pole pockets making, a 16m ultrasonic welder that provides sufficiently strong joins. Orders are mostly entered from Venture Banners' website or via email and phone and tracked through the business to dispatch and customer notification by an MIS developed in-house. This system also supports an allied business which offers fully branded e-commerce sites for a fixed rage of print products for a small monthly charge, which although hooking into Venture's production facilities are not limited to them. 'We make it as easy as possible to sell our products,' says Mr Conway.
The textile side is currently around 15% of the business but growing. 'We're starting to move pop-ups and counters to textiles with silicon edges, and we'll be using our November-December quiet period to look at new products for textiles,' he adds.
Flying the flag 
Another Yorkshire-based production house is Northern Flags in Leeds. The 35 year-old company, which has Holland's biggest flag producer as it major shareholder, doesn't just produce flags: in the last five or six years it's expanded into PoS and exhibition work via the acquisition of Dutch firm Faber Exposize which brought two factories in Eindhoven into the group, followed by XXL Print in Germany some 20 or so months ago. The network of European production centres brings some certainty of continuity in the face of Brexit, as Northern Flags MD Iain Clasper-Cotte explains, 'Pan-European retailers are nervous about it, they want an UK company serving the UK and production for central Europe in Europe; splitting across sites de-risks distribution.'
The UK operation moved into its current site at the turn of the year and installed two Agfa machines, an Anapurna H3200i LED 3.2m hybrid model and an Avinci DX3200 roll-fed dye sublimation printer, plus Asanti workflow software, in contrast to the Durst models favoured at the continental sites. 'The group sent around £5 million on printers,' says Mr Clasper-Cotte, adding, 'the Agfa was slower but gave more flexibility and was at a different investment point. We weren't happy with the support from our previous supplier but Agfa won hands-down – they were also in Leeds and were keen to work with a textile site. Because Agfa makes the inks as well we don't have the issues we had with other manufacturers. We've had an ink technologist over from Belgium recently, it's useful to have that in the same company.'
New client wins and a busier than expected year thanks to some re-shoring of work from further afield led to the addition of two further Agfa units in May 2018, a second Avinci DX3200 and a roll-to-roll Anapurna RTR3200i since the majority of work going through the hybrid Anapurna was roll-based.
Another benefit of Agfa's inks is in their flexibility, which, Mr Clasper-Cotte says, means the printed textiles can be packed more tightly into boxes for shipping. The mapping between the UV and the dye-sub inks gives a good colour match and production staff are happiest printing direct to fabric on the Avincis; Agfa is working on transfer papers for use with more unstable or heavily textured fabrics for interior work such as custom blinds or wall hangings.
On the workflow side, Agfa's Asanti is linked to a bespoke web portal and order management software plus an existing CRM system, but research into an MIS that is more adaptable for a wider product range is in progress.