Sheetfed digital presses update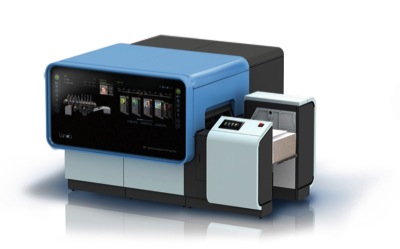 This will be the entry level Landa press, the B3 format S5.
The past year saw many new sheetfed digital colour presses announced. Nessan Cleary rounds up the most significant examples.
It was unsurprising that drupa in May would see a lot of new sheetfed presses. Less expected was that there would be both larger formats and whole new processes. Is the dominance of dry toner about to be shaken?
Inkjets were already tipped as an alternative, though the prototypes shown at drupa 2004 are only now reaching real users in limited quantities. Fujifilm and Screen developed B2 format sheetfed inkjet presses, which are the only ones you can actually buy so far, but others are hot on their heels.
Screen's offering is the Truepress Jet SX, which can print double-sided by circulating the sheets through twice. The latest version can handle card up to 0.6 mm thick, allowing it to target the folding carton market.
It produces 1620 B2 sheets per hour, which equates to around 108 A4 pages per minute, on sheets up to 530 x 740 mm. It will work with all types of paper, including standard offset. Unlike most inkjets, Screen uses a fifth head to lay down a post coating over the image areas, which helps to seal the ink to the media.
Fujifilm's JetPress 720 is a very different beast, designed specifically to compete against B2 offset presses. It is simplex only, so sheets have to turned and re-run for double sided, complicating the issues of printing variable data on both sides. It takes sheets up to 750 x 530 mm. Production speed is 2700 single sided sheets per hour, or about 180 A4 pages per minute.
Fujifilm claims that its press will be competitive for runs up to 2000 sheets, with no makeready time and instantly dry sheets ready for finishing. Its 1200 dpi resolution and wide gamut inks give a very high quality image that the company believes will attract photobook printers.
There is a primer unit between the feeder and the press which allows standard offset papers, to be run both coated and uncoated.
At this year's drupa, Fujifilm showed a prototype folding carton model called JetPress F, which uses a water based UV ink. The inks still contain a coagulant to prevent running so the primer is still needed too.
The Jet Press F prototype at drupa. F stands for Folding as in carton.
Both Fujifilm and Screen are quoting prices well in excess of £1.2 million, which given their slow speeds, seems like a hard sell. They are squeezed between the announcement of the long awaited B2 format HP Indigo 1000, at about £1.5 million, but faster and a known quantity, and the Delphax elan, which is only SRA2 but about £500,000
Also at drupa, Konica Minolta demonstrated a prototype sheetfed inkjet printer called KM-1. It is a solid looking machine, so it is no surprise to find that the chassis is built by Komori, which will also sell it as the Impremia IS29.
Konica Minolta's sheet fed KM-1 is a joint venture with Komori and uses UV inks
It uses printheads developed by Konica Minolta's IJ Technologies division, with a native resolution of 1200 dpi. Katsuhisa Ida, senior manager of the business development division of this division, said that high resolution is important as it allows printers to compete on the value of the pages rather than just the price. He explained, 'The point is to create a new area for value added printing as a very short run market. So quality is very important for us. We believe this is the future market.'
The KM-1 uses UV-curable inks. The model at drupa used four colours but there is room for up to six. It officially runs at 3300 sheets per hour in simplex but Mr Ida says that it can already produce 3000 duplex sheets per hour, although print quality suffers.
French developer MGI showed AlphaJet at drupa: a prototype B2 inkjet with UV inks. This has six colours plus spot UV coating and should be capable of up to 3000 sheets per hour. Resolution is up to 1200 x 1200 dpi. It can handle sheet sizes up to 52 x 74 cm, with weights up to 500 g/m2. The press is expected to ship some time in 2013.
Delphax Elan
Delphax, originally a developer of high speed web fed mono presses, has developed an inkjet sheetfed press, elan 500, designed to compete against both toner presses and the coming inkjet devices. It marries Memjet printheads and water based inks with a Delphax derived transport system for a relatively low cost of around £500,000, roughly half that of other sheet fed inkjet printers.
The Elan uses 16 Memjet heads, eight heads per side for duplex printing. It takes a maximum sheet size of 450 x 640 mm (ie not quite B2) and runs at up to 500 colour A4 pages at 1600 x 800 dpi or 250 pages at 1600 x 1600 dpi.
Unusually for a Memjet printer, it has six rather than the usual five colours, giving CMYK plus two spot colours. Delphax has also developed a MICR ink. It includes an optional inline primer and can print to a range of substrates from 60 to 350 g/m2. The press should be available early next year.
Nanography
With great razzmatazz Landa announced three sheetfed offset inkjet presses at drupa using its new nanography process. These are designed to compete directly with offset presses for short run jobs and are much faster than 'conventional sheetfed inkjets'. There are three sheetfed models in B3, B2 and B1 format, running at between 11,000 and 13,000 sheets per hour respectively on papers from 60 to 350 g/m2. The B1 format S10 model is actually intended as a carton/packaging press, running single or double sided on any substrate up to 400 g/m2. When printing on carton board, metalised stock and plastic foils, the speed will be 6500 sheets per hour.
Dry toner presses
MGI is working on an inkjet press, but is also expanding its Meteor series of SRA3 toner presses. The Meteor DP8700S seen below is a new entry level version of the successful DP8700 with a less sophisticated sheet feeder and boasts a print speed of 71 A4 pages per minute. It includes an envelope feeder and will print to offset papers. Better still, there is no click charge.
Konica Minolta previewed a new machine, the bizhub Press C1100, at drupa, due to be commercially available next year. It uses a completely new imaging engine and new toner. It boasts a maximum throughput of 100 A4 ppm on stocks up to 350 g/m2, with no loss of speed.
Its latest flagship printer is the bizhub Press C8000, for a duty cycle of 500,000 A4 pages per month. This runs at 80 A4 pages per minute, colour or black and white. It will take media up to 350 g/m2 but will only duplex media up to 300 g/m2. It uses Simtri HD+ polymerised toner and there is a built-in densitometer for automatic colour control. There are also the bizhub Press C7000 and C6000, which run at 71 and 60 pages per minute respectively. These were introduced with brand new engines at Ipex 2010.
KM is also persevering with its specialist 'high chroma' press, now in its second generation as the bizhub Press 70hc, based on the current C6000/7000 engine but with different toners for very bright colours. It is intended for prestige colour work such as pitches and photobooks.
Xerox announced a faster iGen4 150 version of its flagship press at drupa, capable of churning out 150 A4 pages per minute, a useful improvement over the standard model's 110 pages per minute. It has also fiddled with the resolution, which has changed from 4800 x 600 to 2400 x 2400 dpi.
As well as the standard iGen4, there is a long sheet model called EXP that takes sheets up to 660 mm. The larger sheet size means more productivity as you can squeeze more business cards, for example, on a sheet but it also opens up a wider range of applications as it can handle items such as six-panel A4 trifold brochures. The new iGen150 also takes the larger sheet size. All iGens of whatever speed are rated for the same average monthly volumes of 200,000 to 3.75 million pages.
Canon has just released a new light production printer, the ImageRunner Advance C9280 Pro. This prints at 70 pages per minute in colour, or 80 pages per minute in monochrome. It uses a new toner, pO, based on that used in its higher end ImagePress printers. This gives 1200 x 1200 dpi resolution and reduces the warm up time. It uses the latest EFI Fiery System 10 server and will integrate with both Canon's Helix inplant workflow and Océ's Prisma production system.
The new monochrome ImageRunner Advanced 8200 Pro series comprises three models that can run at speeds of 105, 95 and 85 pages per minute respectively.
The company also keeps updating its original mid production imagePress machines, including the top C7010VPS. This runs at 71 sheets per minute and takes media up to 325 g/m2 without slowing.
Kodak makes the Nexpress range, which has been considerably enhanced over the years leading to the latest SX generation. It takes up to five colour channels, with various options for the fifth channel for extending the colour gamut, or adding special effects such as the tactile Dimensional printing. The latest options are metallic gold, pearlescent and neon pink colours. Pearlescent gives a subtle silver effect when printed over greys. There has been an option to print a longer sheet up to 660 mm for a couple of years, but at drupa a new 914 mm option was announced, which will be available early next year.
Yellow changes everything, but so does gold and silver and neon pink.
There are three models, with the top of the range being the SX3900, which prints 120 pages per minute, rising to 131 pages per minute with an optional high capacity feeder. This has a duty cycle of 4.4 million pages per month. The SX3300 runs at 100 pages per minute and the SX2700 prints 83.3 pages per minute. All three are also available in Photo edition form, with a Nexpress Photo front end and a clear IQ coat option to simulate laminating.
Ricoh has established itself over the last four years as a major force in sheetfed toner presses, with final assembly in Britain. Top of its range is the Pro C901, available with an optional scanner. It produces 90 A4 colour duplex pages per minute at 1200 x 1200 dpi, without slowing for heavier stocks. The monthly duty cycle is 580,000 pages per month.
For light production it sells the C751, introduced last year. This features a new liquid cooling system that helps consistency on longer runs. It uses the same polymerised toner as the C901 series and runs at 75 pages per minute, with a resolution of 4800 x 1200 dpi. It has a duty cycle of 350,000 pages per month. There is also a budget option, the C651EX, for 65 pages per minute, which  is really a smaller version of the C751.
Heidelberg re-badges the Ricoh printers under its Linoprint brand, albeit with Heidelberg's own workflow systems. These are selling strongly.
HP expands Indigo range for speed as well as B2 sizes
HP continues to develop its Indigo range of liquid toner presses, and keeps speed-bumping its current family. The current entry level press is the 3550, which can produce 68 four colour pages per minute, while the flagship 7600 announced at drupa can print 120 ppm. The big news though was the new wide format' engine announced at drupa, which underpins the B2 format 10000 commercial press and the 30000 carton press.
The Indigo technology allows for up to seven colours. However, the weakness is that it lays down one colour for each turn of the imaging drum, so it slows down if more colours are used. To counter this HP has introduced a new concept, Enhanced Productivity Mode or EPM, which can make 'good enough' colour using just cyan, magenta and yellow, so throughput is better.
Where next?
Clearly the toner based printers (and the liquid ink HP Indigos) that are available today are suitable for a wide range of short run commercial work. For the new inkjet presses to compete against these they will have to offer at the very least the same speed and quality with lower cost of ownership. Some are gambling that higher image quality will lead to newer applications but this will be a tall order given that the existing toner based printers, as well as the Indigos, already offer extremely good print quality.
Contacts:
Canon: www.canon.co.uk
HP: www.hp.com
Delphax: www.delphax.com
Fujifilm: www.fujifilm.co.uk/gs
Heidelberg: www.heidelberg.co.uk
Kodak: www.graphics.kodak.com
Konica Minolta: www.konicaminolta.co.uk
Landa: www.landanano.com
Ricoh: www.ricoh.co.uk
Screen: www.screeneurope.com
Xerox: www.xerox.co.uk