Ipex 93: digital's birthplace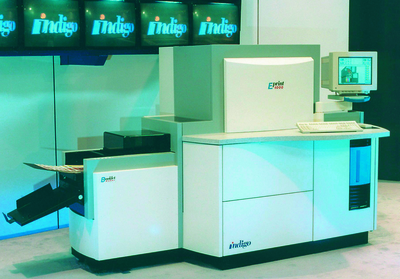 The E-Print 1000 beneath the video wall on the tiny Indigo stand at Ipex 1993
It is 20 years since the landmark Ipex 93 exhibition, which saw the first digital colour production presses launched. Simon Eccles looks back, and forward.
It is fair to say that the start of commercial digital printing, and the roots of Digital Printer magazine, go back 20 years this autumn, to the Ipex exhibition in September 1993. This saw the worldwide launches of three ground breaking digital printing technologies that went on to change the industry (some more than others) and whose descendants are still on the market.
Indigo showed the world's first commercially viable liquid toner colour press, the E-Print 1000, Xeikon (together with its investor Agfa) showed the world's first high speed web fed dry toner colour press, the DCP-1 (Agfa called it Chromapress) and Presstek demonstrated the world's first on-press lithographic plate imaging, on a Heidelberg press. 
Indigo's impact
Benny Landa, founder of Indigo, was then, as now, the consummate showman. This ensured that Indigo's original E-Print 1000 digital offset colour press at Ipex received press and public attention out of all proportion to the company's status as a largely unknown Israeli developer with no track record in actually making commercial presses. The Indigo stand was small by later standards, but it drew crowds who blocked the aisles when the press was demonstrated. 
Alon Bar-Shany is today vice president and general manager of HP's Indigo division. 'I joined in 1995,' he said, 'and for years people were talking about Ipex 93, where we showed the press and people were standing in line, and we had videos and pictures.' 
It took until well into 1994 before any presses were delivered to UK customers, with the first going to Rexam Digital Imaging in Reading. Early machines were so unreliable they were only shipped in pairs and had full time Indigo technicians to help keep them going. Mr Landa said he now regrets shipping them so soon, which is one reason he is determined to not let his new Nanographic presses out until he is satisfied that they are ready.
The E-Print 1000 was slow by today's standards: just 1000 A3 CMYK sheets per hour, or half that if duplexing. Today's fastest sheet fed SRA3 model, the 7600, is more than three times as fast at around 3600 sheets per hour.
Digital Printer asked Mr Landa what he recalls of Ipex 1993. He replied: 'What a thrill it was to have throngs of visitors looking on in disbelief at a printing machine that could spew out offset-like prints, each one different from the other. This was such a new and foreign concept that many insisted that we show them the input stack so they could verify that we hadn't pre-printed the sheets! Now that's what you live for.
 Benny Landa in the 1990s
'The Indigo technology evolved over a 16 year period before being unveiled at Ipex in 1993,' he explained. 'In the early eighties, it was a 'direct transfer' technology, meaning that ink was transferred to paper directly from a photoconductor. Then, in 1984, we invented ElectroInk, which enabled that direct transfer process to print with high quality on a broad range of papers.
'It was then that this direct-transfer technology was licensed to companies such as DuPont, Xerox, Harris Graphics and others. DuPont and Xerox formed a joint venture, DX Imaging (DXI) to develop a proofing machine based upon the technology, which was shown in private to select customers at Ipex 88. By that time, we at Indigo had already invented Digital Offset Colour printing, which made its debut at Ipex 93. The rest is history.'
In 2001, with Indigo successful and well established, Mr Landa sold the company to HP, which has continued development of ever faster and more capable models. Last year it announced the B2 larger format series, of which the sheet fed 10000 is now reaching customers.
Mr Landa took a reported $800 million for Indigo, which he used for a mixture of funding good causes and setting up blue sky technical development ventures. One of these led to discoveries in pigment particle  handling that triggered the development of Nanography, a new printing process, revealed with Mr Landa's characteristic pizazz at drupa 2012. 
HP continues to innovate, stresses Mr Bar-Shany. 'The technology is key, but so are the people. We still have a lot of people who were around in 1993 and we certainly still have most of the people who were here in 2001 when HP acquired Indigo. So Benny has moved on but I and the key R&D and sales people are still around. There's a strong passion for the technology, for the customers, for the innovation.' 
Xeikon flies high
In the June of 1993 a company that nobody had heard of held a press conference and announced a completely new full colour digital printing technology. What is more, it was endorsed by the mighty Agfa, which was putting its badge and front end on a version of its own.
Xeikon's DCP-1 press was a web fed full colour toner printer, with single-pass duplex printing in CMYK. It took a 320 mm web and ran at 17.5 duplex A3 sheets per hour at 600 dpi, equivalent to 35 A4 pages per minute (today's fastest 8800 model runs at 260 pages per minute at 1200 dpi).
Xeikon was founded in 1988 by a former Agfa employee, Lucien De Schamphelaere, close to the Agfa HQ in Mortsel, Belgium. He left to develop his idea of a digital press and Agfa became a major backer, alongside Enso and RR Donnelley. He set up a company originally called Elith in a garage with about five people, including technical director Etienne De Cock. They developed the LED imaging head whose technology has been carried on to this day.
 Xeikon's DCP-1 was the first single pass duplex web fed digital toner press
Agfa called its version the Chromapress 32i and also showed it at Ipex. Being a better known company with a larger stand, it got rather more visitors and press coverage than Xeikon itself.
Xeikon proved adept at getting other companies to sell its presses under their own labels. These included Agfa, IBM, and Xerox, with Barco and Nilpeter also selling presses without rebadging them. Agfa stopped selling Chromapresses in about 2000 but its digital business was taken over by MAN Roland, which sold the presses as the DicoPress series.
Thanks to OEM sales, especially from Xerox which called its models DocuColor 70 and 90, the 1990s were a boom time for Xeikon. However, after Xerox launched its own cheaper, sheetfed DocuColor 2000 at drupa 2000, Xeikon's revenues dwindled rapidly. By the end of 2001 it was close to closure. It was rescued by Belgium print manufacturer Punch Graphix and went on to develop the new and faster presses it sells today.
At drupa 2012 it said that dry toner was getting about as fast as it could get, so it is now developing a liquid toner technology called Trillium, with the first presses to be revealed in 2014.
DI offset
At Ipex 1993, Direct Imaging (DI) looked like the future of offset presses. A year before, Heidelberg had stunned the print world with the announcement of a radical new technology which imaged the plates directly on a modified GTO B3 offset litho press. The images were not variable, but the press ran up to 13,000 sheets per hour.
Heidelberg had worked with Presstek, a US company that had developed a spark erosion imaging head. This turned out to be a dead end with low image quality, but Presstek was already working on a new generation laser diode ablation imaging system called Pearl. It was this much improved second generation head and plate that Heidelberg and Presstek showed on the GTO-DI at Ipex 93.
Derek Gillard was a divisional sales manager for Heidelberg at the time – he is still there as southern sales manager. He remembers the GTO-DI at Ipex 93. 'We had crowds coming to look at it,' he recalls. 'We'd hired a professional from the BBC to present it and I was designated as his stand-in in case he got flu or something, but fortunately he never did!' 
 Heidelberg's GTO-DI pioneered on-press plate imaging
About 125 GTO-DIs were sold, mainly into the USA. Mr Gillard thinks that only one installation was made in the UK, to Direct Image in London. 'The GTO was coming to the end of its life then and before long people heard about the Quickmaster DI that replaced it,' he said.
Quickmaster 46-4 DI was a completely new and very compact design, with a common impression cylinder and roll-fed automatic plate feeders. Launched at drupa 1995, it went on to become the all-time best-selling DI press, with some 3000 sold worldwide before production finished around 2004.
Throughout the 1990s other press manufacturers signed up with Presstek for its technology, with nearly all the big manufacturers announcing they had projects at some time, though not all reached the market. However, after 2000 the shine went off DI.
Presstek kept plate prices high and had a habit of suing manufacturers of compatible plates. Meanwhile, CTP technology and automatic plate changers had advanced by leaps and bounds, so a single off-press platesetter was fast enough to serve several presses at once, with no press downtime while the onpress imagers ran.
Although it did well enough to buy the long established US press manufacturer AB Dick in 2004, by the end of 2012 Presstek was a much reduced company that was sold to a US private equity firm which closed some offices and laid off staff. Today, the only DI presses remaining on the market are Presstek's own brand, which are made for it by Ryobi.
Future prospects?
Of the three Ipex 93 pioneers it is Indigo that has emerged as a powerhouse digital press maker. Presstek still sells plates and presses, but its future seems cast as a niche supplier.
Xeikon, recently taken over by a Belgian investment house, remains apparently able to stand its own against much bigger digital competitors such as Xerox, Canon/Océ, Kodak and Ricoh. When it rolls out its new Trillium liquid toner press next year, perhaps it will be able to repeat its 1990's success.