Material world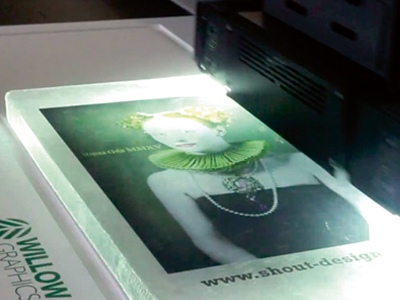 Willow Graphics printed directly onto ice for a promotional campaign for London's Icebar
Flatbed printers can handle an incredible range of materials, including the elements of life, food and water, finds Andy Knaggs.
You know that moment when you print on some cream crackers just to see how it goes, and you end up getting some new business out of it?
No, thought not.
Rapidity Communications knows exactly how this feels however, after it posted a picture on social media of the results of a test print on the savoury biscuits, and then got a call from Jacob's – the first name in cream crackers, no less – who wanted to order a bespoke sample of their own wares for interior decoration.
'We were just testing different ideas in the wide format department and the wide format manager superglued a cream cracker to a 10 mm foamboard,' explained customer service manager Sam Manning. 'We put it on social media and then Jacobs got in touch.'
Not such a crackers idea after all; Rapidity's experiment captured a new client
The crackers were printed using a Canon Océ Arizona 480 XT, which Rapidity put in a year ago. One lesson learned was to use a silicon adhesive rather than a standard superglue to fix the crackers in place. 'It was quite a simple idea – just one that no-one else had thought of,' Mr Manning added with studied understatement.
Wood you?
Seeking ways to showcase the capabilities of Roland DG's VersaUV LEJ-640FT flatbed printer, the company's business development manager Mark Elvidge found the answer in his local garden centre: slices of logs being sold for decorative purposes.
Slices of tree were knot a problem for Roland DG's 640FT 
Being 140 mm tall, the log slices were ideal to show off the 640FT's 150 mm head clearance. The system also has automatic head positioning, ensuring the head would not hit the irregular surface. All that was needed was appropriate artwork to complement the wood textures while bringing the log slice to life – and what better than a face?
The effect is striking, and the cost was too: £20 for the wood, 50p for the ink, all done in 15 minutes.
Ice cool
Things don't tend to melt at London's trendy Icebar, where even the fixtures and fittings are made of ice. Keeping with that theme, the bar wanted some promotional messages printed directly onto ice, and went to South East London printer Willow Graphics for what is thought to be a world-first job.
Willow had already printed menus onto cast acrylic for the client, applying multiple layers of white ink and varnish to make the design able to withstand temperatures of -50 all year-round. Direct to ice was a different challenge though. The UV lamps on Willow's IncTec Jetrix KX7 UV printer had to be put on the lowest setting to stop the ice from melting. Two ice blocks were delivered in a refrigerated van, went straight onto the printer and then back into the van in a matter of minutes. 'We said we would try and it worked,' said project manager Nick Chammas, 'but it really was a challenge for us.'
Water works
H2O does not need to be in its solid state to receive UV inks however. Fittingly for a company whose slogan is 'The Possibilities Are Endless', Senecio in Banbury, Oxfordshire, has experimented with printing directly onto liquid water using its Jetrix system. It works! When cured, the ink, white then colours, set immediately on top of the water and it could even be removed and slid onto a piece of paper without affecting the image.
'It was easier than I thought it would be,' remarked Senecio Press director Alexander Lack. 'My biggest concern was the water moving with the motion of the print head flying across the top. I thought we'd get a ripple effect but we didn't.' A video of the print onto water can be viewed on YouTube.