Current trends in digital presses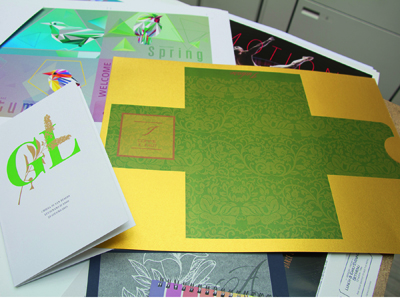 These samples from Xerox Iridesse beta site IPW1 show straight metallic and mixed metallic and CMYK print
There have been several new production presses announced this year but what do they tell us about the trends in this market? Nessan Cleary unfogs the future.
The past six months or so have seen a fair number of new production presses announced, with many of those now beginning to become commercially available. Toner still remains the main imaging method for digital presses, despite the growing numbers of inkjet alternatives, largely because toner has become a mature technology capable of handling a wide range of applications on many different types of media.
Nonetheless, the sheer number of recent press announcements do give us a useful snapshot of the trends in the production press market. There's clearly an emphasis on automation, with most presses across the board, from high volume to light production models, gaining sensors to track things like registration and colour reproduction. This not only keeps the presses running, so boosting productivity, but also helps to reduce the amount of training needed for operators and cuts down on wasted sheets.
Most of the high volume presses have also seen a considerable improvement in image quality. Kodak, for example, has a new version of its Nexpress, the Nexfinity, which is just about to start shipping. It boasts a new high resolution and multi-bit LED writing system giving 1200 x 1200dpi and 256 levels of exposure on the imaging cylinder. There are integrated processors in each of the LED writers to process image data in real time to correct images on-the-fly. This takes advantage of Kodak's new Dynamic Imaging Technology, which is a halftone screening system that applies algorithmic adjustments to specific areas of an image to optimise image quality and consistency based on the image content. This should allow crisp text, hard lines, soft skin tones and beautiful skies to co-exist on the same page.
The Nexfinity can run at up to 120 A4ppm and handle standard sheets up to 356 x 520mm. It will take coated and uncoated media including standard offset stocks up to 457gsm, as well as some synthetics.
HP updated its B2-sized Indigo 12000 press with a new HD version late last year. The new High Definition Imaging System uses an additional 12 laser beams to double the resolution to 1625dpi, which should result in sharper and smoother prints. It's available as an upgrade for existing 10000 and 12000 Indigo presses. Santi Morera, general manager for HP Graphics Solutions Business, says, 'With  the new HP Indigo High Definition Imaging technology, the output is much higher quality than any competing digital solution and can even surpass the calibre of offset printing.'
Self-calibrating
Ricoh has just launched the Pro C9200 series, which has a number of inline sensors and calibration, including a new Auto Colour Diagnosis technology that can detect and adjust subtle tonal fluctuations while printing. This compares the printed image to the electronic RIPped image and makes adjustments as required.
Eef De Ridder, director of Commercial Printing for Ricoh Europe, explains, 'All these advances have been developed to flexibly support higher quality, on-demand production of a wider range of services, printing on a broad choice of substrate types that includes synthetics, carbonless paper, coated and uncoated stock and envelopes. They help PSPs maximise production uptime and expand capabilities to more efficiently, cost effectively and profitably answer broadening market demands.'
There are two models: the C9200, which can produce up to 115ppm A4 and average monthly volumes of 245,000 sheets; and the C9210, which runs at 135ppm A4, with an average monthly volume of 300,000 A4 sheets.
However, it's not just the volume machines that have benefitted from improvements to image quality and reliability. Konica Minolta, for example, has just launched a new line of entry-level colour production presses, the AccurioPress C3080 series. This gains the IQ-501 "Color Care" module, which includes a spectrophotometer and automates various colour control settings. André Statkus, Konica Minolta Europe's product manager for these presses, comments, 'As there is no longer the need for measurement or numerical input, high quality print products are constantly available with fewer manual settings and less human errors.'
The Nexfinity is Kodak's next generation of the Nexpress platform
Most vendors have also extended the amount of finishing equipment that can be used inline with their mid- and light production printers. The Canon ImagePress C650, for example, can take the same range as its faster sibling, the C850. This includes a two-knife booklet trimmer, a paper folding unit, a document insertion unit, a booklet finisher, a multi hole punch including creasing and a staple finisher.
Ricoh has recently announced a new mid-range machine, the Pro C7200, a four colour machine that is aimed at inplant operations. The colour stability has been improved with inline sensors for auto calibration and auto adjustment to improve registration. This runs at 95 A4ppm and its capable of 2400 x 4800dpi.
Breadth of applications
The other very noticeable trend is the increasing breadth of applications that any given press can handle. This mostly means adding additional colour stations. Thus Ricoh also has a five-colour version of the C7200X, targeted at graphic arts applications (sold by Heidelberg as the Versafire EV). The fifth colour station can be used for white and there's also neon pink and yellow toners, as well as clear and a new invisible red toner for some security applications. Mr De Ridder says, 'We also have the ability to print white and CMYK in a single pass which was not possible before.' He adds, 'We can print the white first and the CMYK on top of it in a single pass, which gives a much enhanced capability because it's only one click. Also, having white first gives a much better grading on the colours.'
The point about the click charge is the key thing here – other presses, notably Kodak Nexpress and HP Indigo, also have additional colours but these capabilities come at a price that discourages their use. However, Ricoh is not planning to add the fifth station to the high volume Pro C9200 series. Mr De Ridder says that Ricoh sees fifth colour capability as a relatively specialist requirement that currently does not demand high volume output, adding, 'We believe the Pro C7200x "Graphic Arts Edition" is capable of covering the volumes required for this type of work.'
Xerox clearly does not see the market this way, having just launched a new 120ppm press, the Iridesse, designed to easily produce special effects in a single pass. There are six colour channels, of which the middle four are the standard CMYK colours. But it's the other two special effects channels that make the difference. The first of these can be loaded with either gold or silver dry toner, while the last can be set up with gold, silver or clear. This way the metallic tints can be laid down first with the colours on top, or you can put the metallic tint on last. The metallic toners are said to have both a high sparkle grade and high reflectance, something that would appear to be borne out in samples that Digital Printer has seen. The clear toner can be used to add spot varnish or textured effects to the overall design.
It can print at up to 120 A4ppm, even with the special colours and with the heavier stocks. Xerox says that it's good for up to 475,000 impressions per month. The press can run stocks from 52 – 400gsm and will take a variety of media including coated and uncoated papers, window decals, synthetic papers and polyesters. There's a stock library that contains profiles and optimises settings such as fuser temperature specifically for each media.
There's also a notable trend towards printing on longer sheets, which is useful for applications such as A4 landscape folds, extended book covers, tri-fold brochures, long postcards and direct mailings. Kodak, for example, has an optional feeder for the Nexfinity, which is also available for the Nexpress ZX, that allows for sheets up to 1.2m and papers up to 610 microns.
Ricoh's C9200 is able to auto duplex sheets up to 1030mm long, as is Heidelberg's version, the Versafire EP, and to print on single-sided sheets up to 1260mm long. It can also support media up to 450gsm in weight, with no penalty in performance for the heavier stocks.
Meanwhile, Canon recently updated its ImagePress C850 with improved support for long sheets. This press has been able to produce banner sheets since it was first launched but the new POD Deck Lite XL-A1 long sheet feeder enables automated duplex feeding of 1000 banner sheets up to 762mm.
Naturally, running costs also remain a major concern but effectively improvements to productivity should lead to lower costs per copy. Most of the new presses offer modest increases in speed coupled with much better reliability and colour accuracy, which all help to increase the overall productivity. However, it's impossible to write anything meaningful here about costs because these will vary from one print service provider to the next, depending on the click charges they have negotiated, the cost of the substrates used and the financing they have in place for the press.
But the most important element is how successful each print service provider is at squeezing the most profit out of their presses. This depends on avoiding the temptation to sell on price and instead selling the print for its maximum value, having an efficient sales and workflow process to feed a constant stream of jobs to the press, and prioritising high-value applications. This is where features such as additional colours as well as the ability to handle longer sheets and heavier stocks should come into their own.