Roland debuts clothing, deco and 'deep' flatbed printers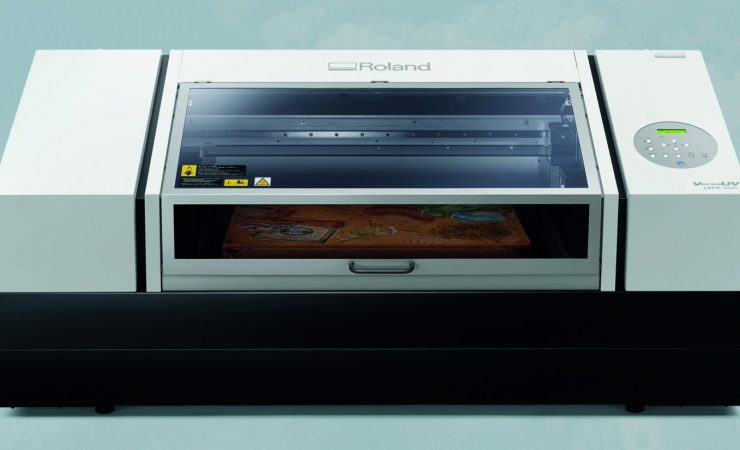 The VersaUV LEF2-300D can handle items up to 200mm deep, extending personalisation possibilities
In lieu of its Fespa appearance in Madrid, Roland DG has confirmed the shipping of its multiple T-shirt printer, introduced a new version of its RIP software specifically for it and announced additions to its small UV-LED flatbed printer range.
The Texart XT640S DTG, shown as a concept at Fespa 2019 and as a more complete prototype at Printwear & Promotion in the UK in January this year, is now shipping. According to Roland DG's EMEA product management and business development director Paul Willems, it has been 'developed significantly' during this gestation period, including input from the company's Japanese R&D facilities. The flatbed section has been designed to support two rows of movable jigs which slide forward on rails to allow 'docking' so that garments can be mounted offline and full jigs swapped in quickly for rapid resumption of printing. 
The CMYK-plus-double white printer can thus print mixed sizes of garments by loading the appropriate jigs and according to Mr Willems can print up to 225 T-shirts an hour at 'standard' resolution in CMYK-only and around 100 when white is required too. Pre-treatment and drying are required in addition. This positions it in the gap between the desktop T-shirts printers such as Roland's BT12 (itself based on a Ricoh unit) and the higher productivity machines from other vendors; at €65,000, it's more towards the price point of the former than the latter.
The printer is complemented by a special dedicated version of the Roland Ergosoft v3 RIP software, which supports template-based hot folders to match jobs to jigs. This scales and rotates artwork to position for the relevant jig, whether it's multiple prints of the same design or each one different. Where a white layer is required to print on dark fabrics, this is automatically generated by the RIP, including undercolour removal based on the garment fabric colour to minimise use of white ink. 'Accent' white can be overprinted but requires specific artwork preparation via a spot colour layer. Existing Texart XT-640/RT-640 users who have activated versions 1 and 2 are eligible for a free upgrade between now and 30th September 2020.
Roland has also launched the VersaUV LEF2-300D, an increased depth version of its small UV-LED flatbed, which now boasts a height of 200mm, supporting taller items such as wine or tool boxes and even musical instruments, on which it can print 'vibrant colour and realistic textures'. The increased depth also adds capacity for a wider variety of jigs, expanding the personalised print possibilities to include shoes, among other items. The LEF2-300D bed holds items up to 800 x 360mm, with printable area 30mm less in each dimension. The printable 'depth of field' is 3–4mm, so slightly curved or uneven surfaces can be accommodated. 
For industrial printing of membrane switches, the new Roland VS300 GO (graphical overlay) printer is a joint development with German ink manufacturer Marabu. It offers a seven-colour ink set (CMYK plus 'lights') that deposits a very thin film that fixes quickly on  polycarbonate materials heated to 50°C and can withstand the extended flexing required in use, as well as supporting embossed button designs. If white ink is required, this has to be applied by screen printing in a hybrid process, as digital white inks cannot provide the complete block-out opacity required in industrial applications.
Mr Willems also confirmed that the EJ-640 Deco aqueous ink model for interior décor announced earlier in March will ship in May 2020.