DSales UK supports Joining Jack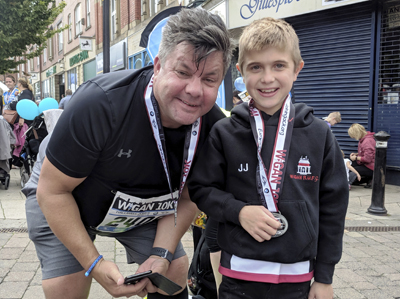 Jonathan Whitworth and Jack Johnson at the Wigan 10K finish line
Jonathan Whitworth, managing director of DSales UK, has completed four major fundraising events in aid of chosen charity partner, Joining Jack, which funds awareness and research into Duchenne Muscular Dystrophy. 
The fundraising campaign began with the Run Wigan Festival. Though extreme weather prevented Mr Whitworth getting to Wigan he braved the Yorkshire snows and completed the 5K distance closer to home.
In July Mr Whitworth took part in the 50 mile Wigan Bike Ride, for which DSales is also the principal sponsor, and at the end of the month participated in the Yorkshire Three Peaks Challenge.
Finally in September he took on the Wigan 10K run, together with his DSales colleagues Glenn Kershaw and Dean Ranton.
Mr Whitworth stated, 'It's not been easy taking on this year's challenges but it's all been in aid of an excellent cause. I would like to thank all who donated to the cause through my JustGiving page for their generosity. Duchenne is a terrible muscle wasting disease and if we can bring a cure one day closer it's all been worth it.'