InkTec appoints Perfect Colours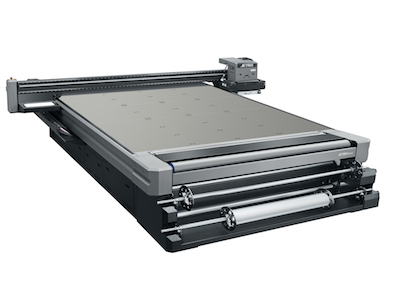 The Jetrix KX7-R
Perfect Colours will supply all machines in the InkTec range within the UK, including the Jetrix flatbed printers, following an agreement between the two companies. 
The Jetrix range is positioned to help sign and graphics print houses transition into flatbed work and develop from there to high-speed production. From the compact 1.2 x 1.2 m KX3 to the flagship 2.5 x 3.06 m KX7, each machine in the range offers a six picolitre drop size and the ability to print onto a wide selection of materials, up to 100 mm thick, at photographic quality. These facets allow owners to extend into lucrative value-adding areas of work, including fine art, point-of-sale and outdoor advertising. 
Perfect Colours' mission is to add value for purchasers in line with its reputation in the UK market. Jon Telling, sales director, said, 'Many wide-format companies have held back from capital investment over the last few years, choosing instead to wait for advanced technologies that can help bring them into new production areas.
'The Jetrix range represents exactly that, and Perfect Colours' support-led approach means that customers can be assured they'll see return on investment in little to no time. We're proud to have been appointed to the InkTec channel and look forward to explaining the virtues of this exciting range to customers,' he said. 
Ben Woodruff, sales manager for Jetrix UK, commented, 'We have known of Perfect Colours for some time and have admired the way they've grown their business and their product range over the last few years. The Jetrix series of UV-curable printers will fit perfectly within that portfolio.
'Perfect Colours has a strong consolidated marketing strategy and, in conjunction with their highly-trained and customer-focused sales team, I believe the company will help us grow the developing Jetrix install base in the UK, and help us maintain our current position as Europe's fastest growing brand of UV-curable flatbeds.'
The InkTec Jetrix 2030FRK, Jetrix KX3, KX5, KX5-R, KX6, KX6-R, KX7 and KX7-R provide fully featured and reliable options for wide format flatbed production at competitive prices. The 2030FRK is a high throughput workhorse reaching speeds of 55sq m/hr, allowing businesses to meet demanding turnaround needs without dropping quality, while the KX range brings, in a variety of combinations, the benefits of white ink and varnish for new creative applications, plus the ability to print to roll-fed media, if required.