3D pop-up fashioned for Louis Vuitton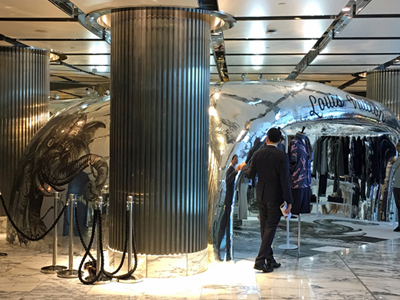 The 9 m x 10 m x 2.7 m structure is on display in Sydney's Westfield shopping centre until 18 December
Australian 3D printer, Omus, constructed what is believed to be the world's first 3D printed pop-up retail store on behalf of luxury fashion brand, Louis Vuitton. 
A customer of Massivit 3D Printing Technologies, Melbourne-based Omus worked with Louis Vuitton's design agency, Gold Coast Displays to produce a statement megastructure for the premiere of the brand's latest menswear collection. 
'Given the complexity of the design and the short turnaround time [three weeks], 3D printing was really the only viable production method available to us,' explained Robert Grosso, co-owner of Omus. 
The company and another Massivit 3D customer, Sydney-based Composite Images, ran two Massivit 1800 3D printers to produce the 30 panels that serve as the walls of the pop-up outlet. Solid 'ribs' in each panel support the weight of the huge 243 m3 structure, which was then finished in chrome mirror self-adhesive vinyl and Louis Vuitton-designed animal prints. The project was completed in 18 days.
'Louis Vuitton, and its design agency, were delighted with the finished result; it surpassed their expectations in terms of its striking visual appeal and realised their original vision to radiate the opulence of the company's safari-inspired men's line," said Mr Grosso. 'Their staff are also happy to explain to visitors how 3D printing was pivotal to the project.'