Paragon apprentices win at Print Future Awards 2017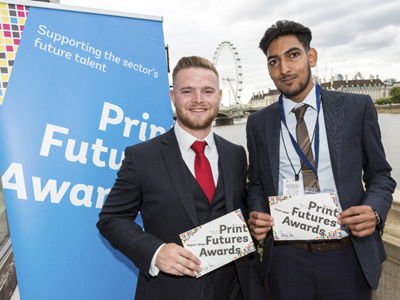 Benjamin Charman (L) and Hamza Loonat from the Paragon team at Print Future Awards 2017
Two of Paragon Customer Communications' apprentices were recipients of Print Future Awards at the 2017 ceremony held at House of Lords on 20 July.
Benjamin Charman (21, Kent) and Hamza Loonat (19, Leytonstone), are both working within the apprenticeship scheme at Paragon Customer Communications Dagenham facility. They were amongst a handful of apprentices from 275 of applications throughout the country who were selected for an award from The Print Futures scheme, which was launched in 2003 by The Printing Charity. 
As 2017 apprentice winners the duo will receive funding grants to help pay for relevant training courses and qualifications in the printing, publishing, packaging, or graphic arts industry.
Mr Charman, who began is apprentice on 3 October 2016 is working on an IT project, charged with securing company and client data in response to the recent WannaCry ransomware attacks. The award will help him fund his Prince2 qualification, to improve the efficiency of his project for the business.
Mr Loonat, also an apprentice since 3 October 2016 is currently completing his Level 4 Project Management apprenticeship, and will use his award to pay for a Prince2 Project Management qualification, first aid training, and a GDPR (General Data Protection Regulation) compliance course.
David Phillips, operations director at Paragon Customer Communications, was also invited onto the judging panel for the 2017 awards, to judge some of the other applicants and winners. 'As a company we are proud to support such young and budding apprentices and openly back the drive to keep future talent within the industry to spearhead continued innovation and growth,' he commented.