Heidelberg adds Versafire EP to new cut-sheet toner range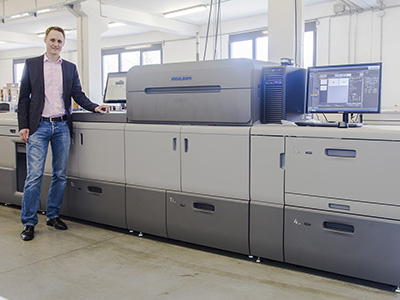 Marcus Unterleider, MD at beta tester Unterleider Medien Gruppe, says the new press delivers 'extremely stable production at a consntaly high speed'
Complementing the recently-announced Versafire EV, Heidelberg has also launched the Versafire EP, a productivity-focused cut-sheet toner press that "matches graphic arts standards" and is tightly integrated into the Prinect workflow.
Based on the Ricoh Pro C9200, the Versafire EP offers the same 135ppm throughput and long sheet options – up to 1260mm simplex, 1030mm duplex – and handles media up to 450gsm. The Heidelberg press features the same continuous colour and registration checking and correcting systems as the Ricoh model and also incorporates the "swing and shift" mechanical compensation for image alignment and front-to-back registration on paper that is not cut perfectly square.
The differences between the machines are in the software realm. Heidelberg offers its own DFE which head of digital print business Montserrat Peidro-Insa said embodies the company's "know-how"; she also emphasised integration with the Prinect workflow environment for maximum site automation where its litho presses and Versafire models are used together, which describes pretty well all existing Versafire sites, according to Andreas Forer, general manager digital commercial.
Speaking at the launch event in Germany, Anthony Thirlby, head of customer segment commercial printing, described the Prinect Production Manager as an "ecosystem" and said that ' "Push to stop" is a business philosophy'. More prosaically, Mr Forer pointed to the Media Management Tool that enables a wide range of machine settings to be stored and recalled to optimise production on a wide variety of substrates and for different applications.
Pricing for the Versafire EP ranges from €120,000 to €230,000 for the press, depending on configuration, plus click charge based on volume. The press is said to be suitable for monthly duty of between 500,000 and one million pages, with appropriate maintenance. Heidelberg does offer an inline banner feeder option and lockable output stackers for security print applications but mostly expects its customers will want to handle their digital print via existing finishing equipment. The first installations are scheduled for June.