England World Cup flag makes BBC News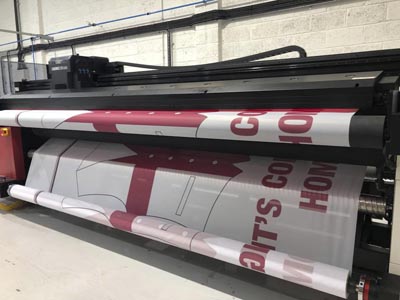 The new 'waistcoat design' flag was created to celebrate England's progression in the World Cup 
Northern Flags has made BBC headlines with its new England Waistcoat Supporters Flag, printed on an Agfa Avinci wide format dye sublimation printer. 
The company has a 33-year history in supplying flags and has been inundated with enquiries for the St George's Cross flags since the World Cup started. The new 'waistcoat design' flag was created to celebrate England's progression in the World Cup, and appeared on BBC Look North news.
The Agfa Avinci DX3200 dye sublimation engine, driven by the Agfa Asanti workflow solution, was an investment from earlier this year.
'Following the feature on BBC Look North, people literally knocked on our doors the following morning to order this new flag design. The Avinci print engine has produced a quality product for us and if we get the result we all want tonight, long may we continue to get this run on sales,' said Iain Clasper-Cotte, UK managing director.