Canon Arizona installed at Signs Now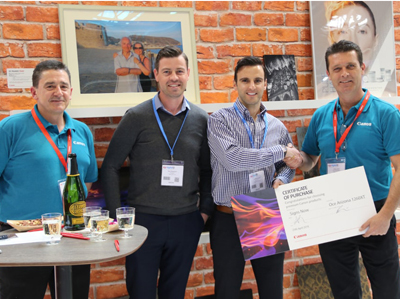 (L-R) Andy Rockall, Canon UK; Glen Fitzpatrick, Signs Now; Carlo Matarazzo, Signs Now; Dylan Jones, Canon UK
Signs Now has installed an Océ Arizona 1260 XT system from Canon as part of upgrades to expand the business.
After more than a decade using an Arizona 250 GT, the company decided to invest again. The deal for the new Arizona was confirmed at Sign & Digital UK, with the installation completed in May.
Manager Carlo Matarazzo said, 'We haven't looked back. The machine has been brilliant in terms of speed, quality and the add-on features. It has seriously reduced labour costs and we feel sure it will open up many new business opportunities going forward.' 
As well as being faster than the company's previous Arizona, the new model can also print wider and with white ink, as well as featuring more automation.
'One of the real benefits for me is the automatic cleaning system, which means I don't have to spend up to 90 minutes a day cleaning the machine and vacuuming,' added Will Fallon, machine operator.
The company has four sites and a £3 million turnover, producing all kinds of signage for shop fronts, retail parks, schools and blue-chip companies.