Epson recognises print textile designers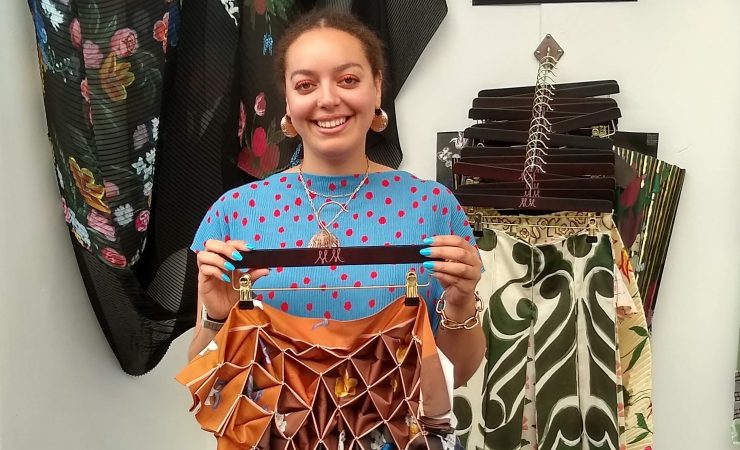 Inspired by the Rev. James Hervey's publication, 'Reflections on a Flower Garden: In a Letter to a Lady' Molly-Mae Brissett-Haigh used various pleating methods, smocking and gathering to hide and reveal prints
Epson announced the two winners of its 'Outstanding Use of Print in Textiles' prize on the first day of the New Designers Exhibition in London.
First prize went to Molly-Mae Brissett-Haigh, a graduate from the Textile Design facility at the University of Edinburgh, for her 'Blessing in Disguise' fashion collection. Lucy Hope, a graduate of Glasgow School of Art, was also honoured for her 'Happi' fashionwear.
'The standard of textile design at this year's New Designers Exhibition was breath-taking,' explained Heather Kendle, market development manager, Epson Europe. 'There was an incredible range of styles, designs and innovations on show, all proving that digital and dye sublimation printing have opened up a wide range of possibilities for those fashion and décor designers wishing to push the boundaries of what is possible in print.'
Both winners will now participate in an Epson design project, creating a collection of interior décor or fashion designs using dye sublimation printing, which will be showcased on an Epson stand at a trade exhibition over the next 12 months.
'The opportunity to work with a brand like Epson on a live project will be an invaluable experience,' said Ms Brissett-Haigh 'It will give me great wide ranging experience in industrial printing and manufacturing processes, something I know will aid me and my future in the industry.'
'I'm overjoyed to have been given the award by Epson and am very much looking forward to working with the team over the coming months,' added Ms Hope. 'I think we are only on the cusp of understanding how far the industry can go with digital and dye sublimation textile printing so it's great to be working with a company that has so much expertise in this area.'