Devil is in the Detail with Roland TrueVIS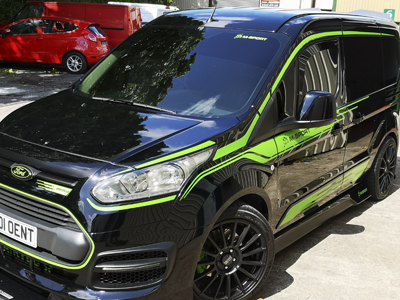 The Devil is in the Detail
Brand-new vehicle wrap and signage business, Devil is in the Detail, has launched with a Roland DG TrueVIS VG-640 printer/cutter.
Owner Micheal Hawes opened the business in Selby, Yorkshire after online research, trade shows and suppliers' open days led him to Roland distributor Your Print Specialists (YPS) and the Roland TrueVIS VG-640.
'I have friends in the car industry and was looking for a career change,' explained Mr Hawes. 'Around 18 months ago I started researching offering dent repairs and cosmetic vehicle work. This developed into Devil is in the Detail, a vehicle graphics business.
'Initially my use for the machine was going to be vehicle graphics and digital wraps, but as word of mouth has spread with the machine's capabilities I am already getting requests for banners and signage too,' said Mr Hawes. 'I thought, "I may as well make the most of the machine".'
He added, 'I don't originally come from a print background and I find the TrueVIS straightforward to use. I like the integrated print and cut, the take-up unit is brilliant and it really is a multi-purpose machine.'
Undertaking training to maximise his investment in the TrueVIS was essential to Mr Hawes, 'I attended Roland's intermediate print course at Coventry University, which filled gaps in my knowledge such as colour management. I also went on the Introduction to Digital Print course at the Roland Creative Centre in Clevedon.'
Already busy just weeks into his new career, Mr Hawes commented, 'I want to make a name for myself by committing to doing a great job.'