Dragons are here, Eagle has landed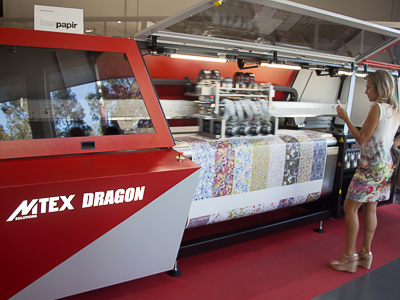 Fashion is one of the markets the Dragon dye-sub transfer printer is aimed at
Textile printer manufacturer Mtex used its annual summit event in Famalicao near Porto to announce the commercial availability of its Dragon and Eagle printers.
The Dragon 16H is a new 1.9m width sublimation transfer printer aimed at industrial applications, and the first in the Portuguese company's textile printer range not to support direct-to-textile sublimation printing. Claimed by Mtex to be up to 2.5 faster for finished output than any other similar width device in its class, the unit features built-in heat fixation and produces up 270sqm/hr in two-pass, 720dpi production mode with variable droplet size. It also offers higher quality with four- and eight-pass modes at 720 or 1440dpi, each with an approximate halving of throughput.
There are 16 printheads in a staggered arrangement and the Dragon has a novel head wiping system to remove nozzle contamination before maintenance operations. Two roll feed options are available, supporting rolls of up to 500mm diameter and 350kg maximum weight or 1000mm and 700kg.
CEO Eloi Ferreira said, 'The Dragon is a game changer in terms of excellent return on investment of capital cost and also in terms of the stunning price of our high quality, high colourant inks which we believe are unbeatable in the market today.'
The Eagle 16H is a 3.2m direct fabric sublimation printer for soft signage and similar production at speeds of up to 304sqm/hr in two-pass production mode at 720dpi, again with higher quality but slower alternatives available. It has the same roll-feeding configurations as the Dragon plus an adhesive belt option for stretched or knitted fabrics and is available in 8- or 16-head configurations. Both units can be used with a wide variety of third-party RIPs and are available to order immediately. An early UK customer for the Eagle is Bacup, Lancashire-based trade printer SuperWide Digital.