Picon's centenary celebrations marked with new book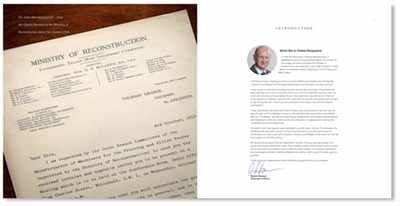 Chairman Gerard Heanue's introduction in the Picon centenary book.
In October 1918, shortly before the end of the First World War, the organisation that today bears the name Picon came into being, and the centenary has seen the release of a new book, complete with foil blocked slipcase, that plots the organisation's history and current activities.
It was on 16 October 1918 that The Association of British Manufacturers of Machinery for the Printing and Allied Trades was formed to 'encourage, promote and protect the interests of manufacturers and producers' in the UK's print and associated trades.
Today, the employers' organisation has 95 members and according to chief executive Bettine Pellant is as relevant as ever, with its original protectionist remit having given way to a much more international and diverse outlook. 'We remain relevant and proactive, creating opportunities to speak out on behalf of our sector and to create commercial opportunities,' said Ms Pellant. 'Our organisation has proved adaptable to political, economic and social change, and each generation has addressed issues as they saw fit.'
Along the way, there have been many name changes and significant mergers, not least between the BFPMS (British Federation for Printing Machinery and Supplies) and the BPMMA (British Paper Machinery Makers Association) to become Picon (Printing Industry Confederation), and then ten years ago the merger with the APMI (Association of Printing Machinery Importers).
The centenary book features an introduction (see picture) by chairman Gerard Heanue, also of Heidelberg, who writes positively: 'Suppliers should lie comfortable in their beds; print will still have a place into the 22nd century.'
The book was designed at PorterClarkeDesign and printed by Optichrome on a Roland B1 press using 170gsm Galerie Matt paper. PUR-bound in hardback and covered using Brillianta black cloth, the book is also enclosed in a Fenner Colorset Nero slipcase and foil blocked in gloss black and silver.