Compass gets accreditation to say yes to more business deals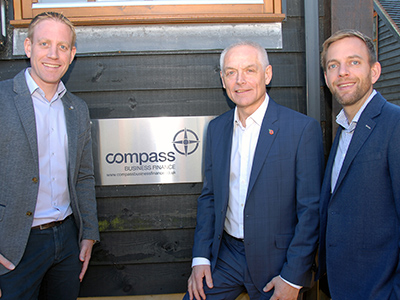 British Business Bank's Bernie Skivington (centre) with Jamie (L) and Mark Nelson of Compass
Specialist lender Compass Business Finance is the first asset finance house operating in the print and packaging industries to gain accreditation with the British Business Bank for the latter's Enterprise Finance Guarantee (EFG) programme, which will enable increased support for smaller businesses.
The EFG programme gives lenders a government-backed guarantee for up to 75% of the outstanding balance of eligible credit facilities, while the lender guarantees the remainder. This should increase credit to businesses that struggle to meet standard security conditions but who do have viable plans  – something more likely to occur in digital print, where assets depreciate faster than in other print sectors and equipment has a shorter replacement cycle, so larger deposits are required and shorter repayment terms are typically imposed. Credit facilities from £1000 to £1.2 million will be available, subject to Compass's commercial judgement.
Speaking to Digital Printer, Compass director Mark Nelson said, 'The accreditation with the British Business Bank can turn "no" into "yes" and can also allow cash in the business to be kept for other purposes, for example.' Mr Nelson explained that his company's successful involvement with the Regional Growth Fund grant scheme, which came to an end in 2017, had 'put us on the map' and led to the accreditation with the British Business Bank, adding, 'Through the accreditation, we're now able to further extend our range of competitive and flexible solutions.'
Bernie Skivington, director, Guarantee and Wholesale Solutions at British Business Bank said: 'The British Business Bank is committed to helping smaller UK businesses access the finance they need to realise their potential. Accrediting Compass under the EFG programme will enable them to support more smaller businesses that are working successfully, but which might otherwise struggle to acquire business-critical equipment or machinery that can boost their growth.'
Since its launch in 2009, the EFG has provided nearly 30,000 loans and other facilities worth more than £3.2 billion. The British Business Bank was established in November 2014 and was supporting over £5.5bn finance to more than 78,000 smaller businesses as of late June 2018.