Baumann Wohlenberg aids cutting automation at Route 1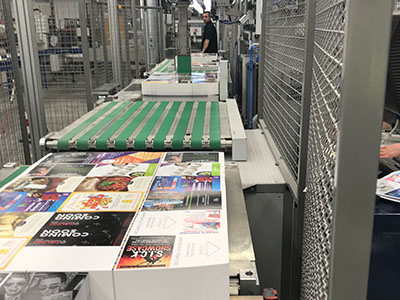 Jog on - the Baumann Wohlenberg system is central to automation of cutting
Route 1 Print has automated almost half its cutting by linking and automating three cutters via Baumann Wohlenberg BASA 3 jogging and handling equipment supplied by Friedheim International.
The Baumann system at the Bluetree Rotherham site was chosen for its B1 format support and the variety of materials it could automatically process, which includes papers from 60gsm upwards, various types of label papers, light board to 300gsm, foils and certain plastics, plus perforated and embossed paper and board. The BASA also includes a carton inserter, de-stacking unit and counter, allowing many types of products to be processed and sorted automatically.
Route 1 Print managing director Adam Carnell commented, 'Before the BASA 3 we were running everything manually. It's a lot of work for our staff to be handling, especially the sheer volume we were processing. Now everything is running on automatic. There was a period of having to get used to a machine moving the way it did, but now that it's been running for a few weeks the volume of work it can processes is amazing.'
B1 print produced at Route 1 is currently all litho but it is likely that output from the Landa S10P press due to be installed in early 2019 will also find its way through this finishing process.