No stretch to say new Mutoh is a flexible friend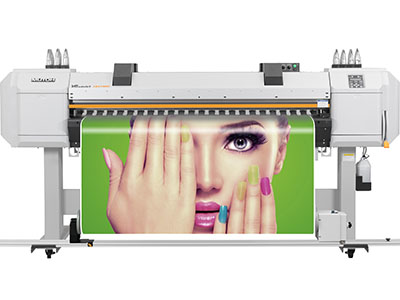 The new 64-inch wide Mutoh ValueJet VJ-1627MH
Immediately dry prints across a wide range of both rigid and flexible substrates are possible with a new 64-inch wide inkjet printer launched by Mutoh.
The Mutoh ValueJet VJ-1627MH – which replaces the manufacturer's VJ 1617H model – features a hot air knife drying system and a new resin-based CMYK + White inkset that allows printing on white, transparent and coloured media. These inks, called MP-31 (MP stands for Multi-Purpose), are themselves stretchable and shrinkable, making them capable of high-stretch applications such as car wraps and thermo/vacuum forming and shrink applications. Mutoh said the inks also preserve the natural matt and gloss texture and look of substrates.
Capable of a print resolution of 720 x 1440 dpi – suitable for high quality, short viewing distance work, says Mutoh – and a print speed of up to 12 square metres per hour (720 x 720 dpi) the VJ-1627MH's inks have a UV durability of up to two years outdoors without lamination. The printer can be equipped with foldable rigid print tables for rigid substrate printing, allowing printing onto a maximum thickness of 16 mm. There is also an optional front-side rigid media alignment system that makes perfect double-sided printing possible, while a 30 kg automated take-up system can be attached for finished roll prints.
Mutoh adds that numerous automated and semi-automated features have been included in the new system, including automated media height measurement and semi-automated cleaning cycles, while regular maintenance features have also been improved.