Printing Charity boosts aid across the board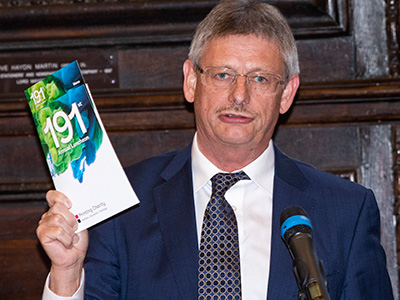 Chairman Jon Wright led a tribute to the late Baroness Dean
The Printing Charity had by 22 November 2018 already helped more people than it did in all of 2017, with substantial double-digit percentage increases in its welfare grants, back-to-work support and education initiatives.
Speaking at the Charity's 191st annual luncheon at Stationers' Hall in the City of London, chairman Jon Wright gave a tribute to 2017 president Brenda Dean who died earlier this year, praising her humour and energy in the charity's cause, before reporting the increases in the help the organisation had been able to give during 2018.
A particular highlight was this year's Print Futures Awards, which drew 302 applications and produced 91 winners. 'We are targeting 100 winners for next year,' Mr Wright added.
The guest speaker at the event was the charity's 2018 president (who has also agreed to serve in the role for 2019), Lionel Barber, editor of the Financial Times. Mr Barber outlined his career, which he said was influenced by his father's love of the printed word, commenting that 'the world has been turned upside down by the internet, but the opportunities have never been greater', allowing people to 'compose, code and collaborate in ways unimaginable a few decades ago'.
Quoting former Printing Charity president Charles Dickens, radical journalist and parliamentarian John Wilkes and ex-Daily Mail editor Paul Dacre on the importance of a free press, Mr Barber outlined how the FT had made a successful transition from a print-only publication to today's award-winning multichannel news source.