Record year of sales for Zünd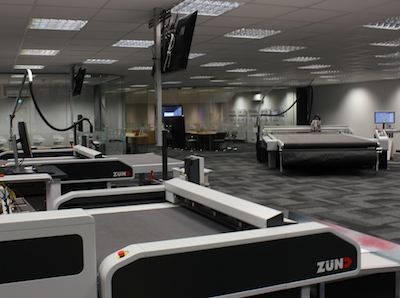 Zünd demo centre
Zünd UK has had a record year for machine sales, with a 35% increase compared to 2013, from across all different types of market. 
The company's digital cutting systems have been strong, from sign and display to packaging, from automotive to aerospace, and from leather to special applications.
In the graphics sector, the new Zünd G3 L-2500 in Fine Print's display department attracted the attention of Prime Minister David Cameron during a visit, John E Wright's Zünd G3 XL-3200 system enabled more work to be brought in-house, while Logoshack moved into the POS sector with its new Zünd S3 L-1200. 
The cutting systems also had a starring role in a recent episode of 'Innovations with Ed Begley, Jr' on the USA's Discovery Channel and in the flesh at Zünd UK's recently renovated demonstration suite at its St Albans HQ.
'We've had a very successful 2014 across the board and expect 2015 to be just as busy,' said Peter Giddings, sales director. 'We're seeing renewed confidence in the UK's manufacturing sector with more businesses looking to invest in systems that will make their workflow faster and more efficient, or allow them to explore new markets. 
'We're looking forward to inviting more resellers and customers to our revamped demonstration centre in 2015 to show how Zünd equipment can be used within an efficient end-to-end workflow in a range of industries, as well as showcasing our systems at a number of events.'