Imprint announces version 18 of MIS software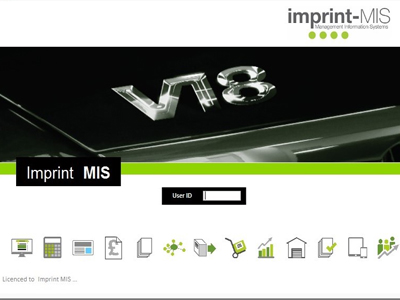 The Imprint MIS log in page

A new version of Imprint's management information system will be launched by the company and will give customers greater accessibility and visibility of tailored information.
Version 18 incorporates a suite of improvements that have been requested by customers, including advancements in online functionality. New features include improved navigation, search and find functions, shortcut buttons, online shop floor data collection and a live factory monitor.
Additional new developments in version 18 include the ability to split jobs into individual sections and view their progress and performance through production, an enhanced search facility that makes it easier to locate information, and a general improvement in the way that information is delivered to users, with the system now bringing more data forward and using it to help prompt further actions. For instance, within the CRM console is a newly enhanced reminder panel containing live information about jobs and phone calls and meetings, which in version 18 is integrated with MS outlook. Directly through the prompts in this reminder panel, users can quickly and easily mark their actions to change the real time status of jobs.
Wayne Beckett, sales and marketing director for Imprint Business Systems, commented, 'We've been developing version 18 for around 18 months now, responding to a large number of customer requests during that period. Our objective with the new version is to bring critical data more readily to the fingertips of our customers, and we are also bringing new functionality, reporting tools and a vibrant new aesthetic approach to the software.'
Mr Beckett concluded, 'A huge amount of information goes into an MIS, but the job of an MIS should be to feed the right information back without the user having to search for it. With version 18 of the Imprint MIS we are confident we have made significant progress towards that goal.'