Smart Directions Conference brings fresh ideas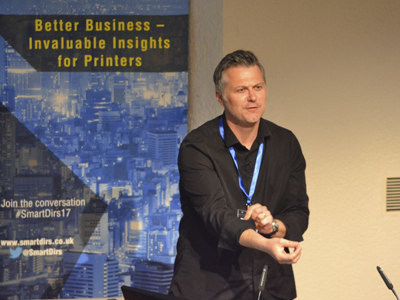 'There's more innovation in companies like ours than Facebook, Google…' said conference speaker Jon Bailey, CEO of ProCo
A Digital Printer initiative, the third annual Smart Directions Conference explored a number of topics beneficial to print business owners, including partnerships, sales technique and body language.
Held on 25 May, the 2017 Smart Directions Conference provided a day of valuable content and networking opportunities, with 86% of attendees rating the event as "excellent" or "good". 
Collaboration and relationship building is key to a successful business, stated conference speaker Tony Kenton, marketing director at It Has To Be Brilliant. This point was reiterated by Adam Carnell, managing director of Route1Print and Bluetree Group, who explained his customer-centric approach: 'We see ourselves as a partner to our clients'. Jon Bailey, CEO of ProCo, took the "successful friends" remit even further, highlighting the benefits of transparency and sharing – even with the competition – to facilitate 'proper partnerships' with customers who will become valuable business advocates. 'Are you willing to open up your customers to your suppliers?' challenged Mr Bailey, revealing that he also invites other print companies to come in and see ProCo's equipment in action.
Marian Stefani, CEO of IPIA called for better salesmanship to make customers more aware of what print can offer, citing the difficulty of getting a new idea to an end-buyer. Similarly, keynote speaker, body language expert India Ford made a strong case for 'the power of the first impression in business', demonstrating the best ways to appear poised and confident in a professional environment.
A lively panel debate on trade print discussed the pros and cons of specialising versus diversifying. 'You don't have to buy a press and figure out how to run it,' insisted Simon Cooper from TradePrint/Exaprint, while Mr Carnell described how he runs two companies to handle both bespoke jobs and more routine work in a "best-of-both-worlds" approach. 
"Digital transformation" was explored by marketing consultant Roger Christiansen, who described digital print as a "quiet revolution" – with virtual stock, faster time to market, printing locally and on-demand services continuing to see off the threat of e-books. 
Even amid digital competition and a host of multi-channel communications, print is still a powerful medium for conveying a message. 'Our industry has never had so much innovation,' believes Ms Stefani. Speakers and delegates alike left the conference with some valuable ideas on how to harness this creativity and translate it into sales.