P5 from Durst heralds new wide-format platform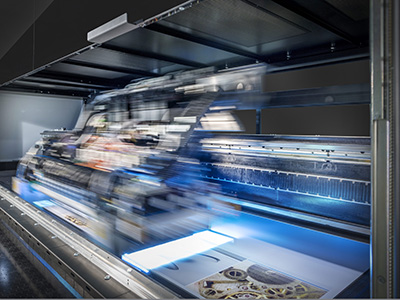 A platform arriving near you: the Durst P5 250 HS will ship from April
Durst has announced the P5 250 HS, a hybrid wide-format printer that is the first of a series of new high productivity, high quality models based on its new P5 hardware and software platform.
Claiming 70% higher productivity than previous models, the P5 250 HS uses MEMS (micro electronic mechanical switching) printheads driven by a proprietary data-path and electronics, complemented by Durst software and workflow offerings.
The new printer offers up to 240sqm/hr in two-pass mode and a high-resolution mode at 1200dpi which the company says enables it to support applications both in high volume industrial production and in one-offs at offset quality using a drop size of 5pl.
Durst's Analytics software is designed to enable pre-emptive maintenance, with detailed machine and ink/media consumption data to help support maximum uptime. Durst Workflow is a suite of applications designed specifically to support the new range of printers.
Christoph Gamper, chief executive of Durst Group, said: 'The new P5 platform, including workflow software and advanced service tools, represents our key strategy to further invest into large format printing technology and further afield. We believe that there is a lot to explore in this market space and the P5 250 HS is our first statement. In an integrated world, printers need to change as well. With the P5 family we provide tools for change and profit.'