High-speed hybrids from EFI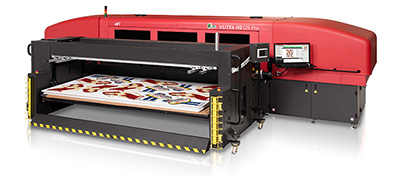 The HS125 Pro – the F4 variant increases speed to 225 boards an hour
EFI has announced new versions of two Vutek hybrid flatbed/roll-fed wide-format printers that increase production speeds for distant-viewing applications such as banners, hoardings and building wraps.
Previewed at the Connect user conference in Las Vegas in January, the Vutek HS125 F4 and HS100 F4 models use their eight ink channels in a double CMYK configuration to provide "Fast Graphics" output speeds of 225 or 190 boards an hour respectively for the HS125 F4 and HS100 F4, though at resolutions suitable for more distant viewing.
'Our CMYK x 2 configuration, which is available in several other EFI Vutek superwide format printers, is an ideal offering for out-of-home applications where total cost per square foot is key,' said Ken Hanulec, vice president of marketing, EFI Inkjet. 'These two new printers run more than 50% faster, and a speed boost like this gives our customers an important new opportunity to increase their margins.'
Both models will be available this quarter and purchasers in the period of either current "Pro" designated model will have the option to upgrade to F4 specification on-site.