Ultima unfurls the banners in Birmingham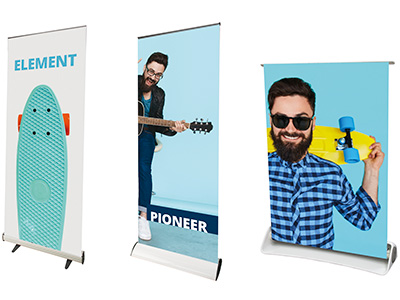 Banner options (L to R): Element, Pioneer and Stellar (not to scale)
A new range of portable banner systems from Ultima Displays will have its premiere at Sign & Digital UK next week.
Designed to suit a range of needs and budgets, the Vision Banner range is made from recycled plastic and precision moulded polymers with a high shine white gloss, making it visually distinct from the more usual aluminium. The range runs from the budget-conscious Element to the Revolution which has a base designed to make the banner appear to float and is aimed at premium brand-conscious customers. There is also a desktop presentation variant, Stellar. The range comes with a lifetime hardware warranty.
'The streamlined styling sets the Vision range apart from anything else on the market, giving Ultima Displays' trade partners the edge on their competitors," said Osvaldo Gallio, managing director at Ultima Displays. 'We've specifically designed and engineered this cutting-edge banner range to offer an elegant and original way for brands to communicate their messaging.'
The company will also be showing its Formulate double-sided fabric graphics range and Vector LED lightboxes on stand F10.