Ricoh shows extended colour options for new press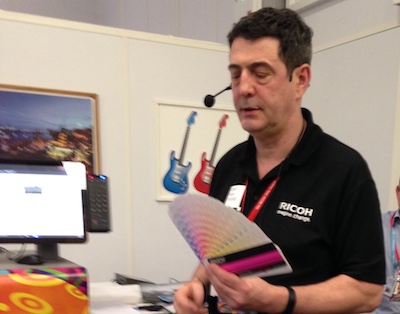 Ricoh's Andy Campbell shows the swatch book for the  fluorescent pink toner
The software options for the recently introduced Ricoh Pro C7200 cut-sheet press were shown at the company's Art of the New customer event in Telford on 24 April. These include extended gamut printing using neon toners, and colour on metallised substrates.
Users who want to maximise the effectiveness of the yellow or pink neon toners that the C7200 supports in its fifth colour station can use Touch7, a suite of plug-ins for Adobe Creative Cloud applications that allow the neon colours to be integrated into continuous tone images or assigned to vector art and page elements as spot colours.
With the option to use the neon colours as replacements for their process equivalents or in addition to them, this allows vibrant colours outside the normal CYMK gamut to be printed by the C7200, with the neon pink enabling vivid oranges and the yellow bringing rich greens when mixed with the standard process colours. Ricoh has produced swatch books for these combinations, printed on the C7200, to enable printers to share the possibilities with their customers as an accurate guide to the colours that can be achieved with each of the neon toners.
A similar pair of swatch books has been produced for use with metallised substrates, via the Color-Logic software, again showing how the neon toners can be mixed with standard process colours to achieve extended gamut print. The Color-Logic software simplifies artwork creation for printing in this way, letting the user work with a "silver" spot colour thus avoiding the need to create "white ink" masks.