Xerox brings six-colour embellishment press out of Asia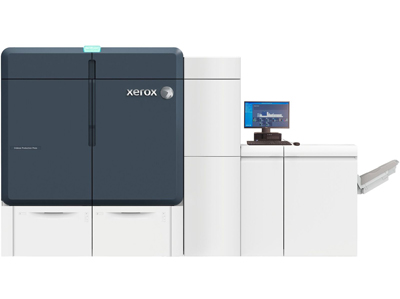 The Iridesse offers various inline finishing options too
The Iridesse, a six-colour high quality sheet-fed digital press that supports metallic and clear toners has been formally launched in Europe and North America by Xerox after its Asian debut late last year.
Announced in Thailand last November, the 120ppm SRA3 press supports six colours which in addition to CMYK may include clear, metallic gold and metallic silver with options to underprint the metallics for a wide range of creative finishes to be implemented in a single pass at rated speed. This simplifies production of items that would otherwise require multiple passes through the press or multiple print and post-print processes, making these options faster and cheaper to achieve.
Xerox UK head of marketing for graphic communications and production systems Kevin O'Donnell told Digital Printer that the Iridesse can be ordered immediately for delivery in June. Ballpark pricing is expected to be in the £130,000 – £140,000 range depending on configuration, which can in include two dual-tray input feeders, and the CMYK click charge will be "market aligned" to similar CMYK-only devices. The additional metallic and clear toners are priced on consumption and replaced as necessary. Xerox says that changing toners takes 15 to 20 minutes and does not involve any flushing, with "sellable" first prints after change-over.
Mr O'Donnell said that there are two types of work envisaged for the press: "technology transfer" in which existing processes such as foil blocking are replaced, and new creative applications for "CMYK-plus" printing. 'Our London test site started with CMYK and had to educate its customers, who include galleries, museums, restaurants and cosmetics firms. The press was installed in December and they were able to do a lot of Christmas cards with it and are getting growing interest for Asian wedding stationery,' he said.
Xerox says that the press can achieve all these effects at "full" resolution – the RIP operates at 2400 x 2400dpi with 10 bits-per-colour in all six channels for fine detail and smooth gradients, though the print engine images at 1200 x 1200dpi, with colour-to-colour registration said to be accurate to 70 microns. This is supported by a new high definition emulsion aggregate (HDEA) toner that has smaller particles which give a less glossy appearance.
Software tools to define and assign the special metallic colours are included with the press and can also be controlled from the EFI Fiery DFE. Xerox provides swatches and templates to help printers or graphic designers choose and use these, or Color-Logic software can be used.