Kongsberg C44 installed at Pure Innovations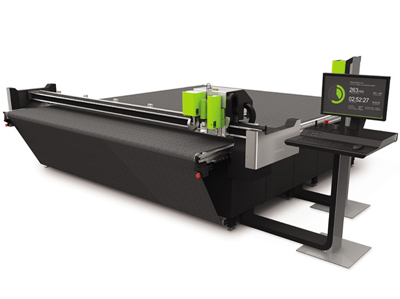 'We were wowed by the Kongsberg C series' – David White, operations director at Pure Innovations
Pure Innovations has invested in a Kongsberg C44 from CMYUK after steady company growth and increased production for high-quality digital print resulted in the decision to invest in its digital department.
Having been in the print business since 1983, the company offers a range of services from 3D rendering to retail graphics, large format printing to window displays and live event build to signage and 3D logos.
In order to double print productivity, it became apparent that a top-performing cutting machine would be required – one that not only had the accuracy for CAD cutting but also the speed to keep up with workflow.
David White, operations director, said, 'After a demonstration set up by CMYUK at their new demo centre, we were wowed by the Kongsberg C series and made the decision there and then that the Kongsberg C44 was the one for us. Since being installed, we have been extremely impressed with its capabilities and most of all, the speed that this machine can run at. Our operators are thrilled with its performance and ease of interface.'