Ready to reel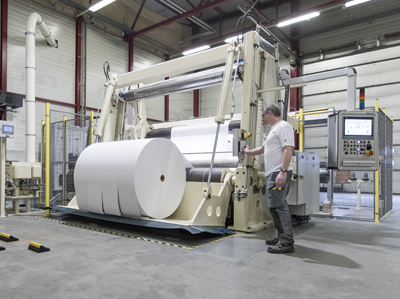 The service is available for Stora Enso's woodfree coated and uncoated papers
Stora Enso has introduced a new rewinding service called ReadyReel from its Lumipaper site in Antwerp.
ReadyReel is designed to offer rapid delivery of reels ready in the format and position needed for loading directly on to the press. 
The narrow format reels service (20-60cm) has been developed to serve digital printers as well as direct mail and envelope converters, allowing customers to manage the ever-growing demands for shorter runs and faster turnaround within their process. The service is available for Stora Enso's woodfree coated and uncoated papers. 
'The new service allows us to deliver narrow reels efficiently in the format that our customers need. The reels are ready in the right position and easy to handle. To support the new service, we have also developed the SafeWedge system which allows safe handling of reels from the pallet and re-use of the pallets,' said Ivan De Donder, plant manager Lumipaper, Stora Enso. 
'The fact that the service is centrally located in Europe helps us deliver reels with fast lead times. For the UK, ReadyReel offers customers another product complementing our "Direct-to-Market" sales policy,' added Mario di Lieto, MD of Stora Enso Lumipaper.
'The ReadyReel service is going to help us grow our presence in both the inkjet and electrophotographic market and at the same time respond to the changing needs of our converter customers,' commented Jonathan Bakewell, VP, Office Papers, Stora Enso.